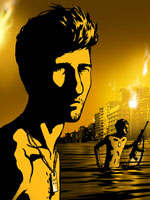 I believe the 9-title shortlist for Best Foreign Language Film is due today, but details on the announcement are oddly hard to come by, so I could be wrong.
In any case, it's one I'm having a tough time calling. The new voting system should ensure that some of the year's most acclaimed contenders are spared the indignity of being left off the shortlist (as happened, notoriously, to "4 Months, 3 Weeks and 2 Days" and "Persepolis" last year), so it's difficult to see favorites "Waltz With Bashir" (fresh from its Globe win) and "Gomorrah" missing the cut. 
I'd like to say that the best film of 2008, "The Class," is similarly assured a spot, but it's a risky, tough-minded docudrama, and I'm not sure how the committee (even the executive panel created to keep things in check) will respond to it — especially with "Gomorrah" and "Bashir" also occupying contemporary, genre-spanning territory. Fingers crossed. 
Beyond that, my predictions get shaky. I think my projected list is a little heavy on European entries, but it's hard to predict which one/s will miss. The Academy invariably throws a few less-heralded curveballs into the mix, but with 67 entries to choose from (and many of them fairly unknown quantities), it's anyone's guess which obscurities have caught the committee's eye.
(More thoughts, and my predicted shortlist, below the cut.)
Last month, I highlighted some alternative possibilities from the list. "Tony Manero"'s publicity team has been lobbying hard recently for the quirky, blacker-than-black comedy, but it's a tough sell for more genteel voters. "Tulpan" has cut a surprising path through the festival circuit; after "Mongol," can Kazakhstan score two years running? Austria's "Revanche" has a melodramatic arc that the Academy might well like, but can they get past its grimy, explicit opening act? 
My predictions are below. I know we've got a global readership, so I'd be grateful for your insights. What am I underestimating (or overestimating, for that matter)?
"Lion's Den," Argentina
"The Class," France
"The Baader Meinhof Complex," Germany
"Waltz With Bashir," Israel
"Gomorrah," Italy
"Captain Abu Raed," Jordan
"O' Horten," Norway
"The Mermaid," Russia
"Everlasting Moments," Sweden