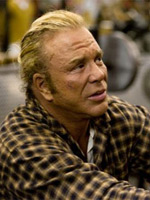 Given the newly compressed awards calendar of recent years, with a gap this year of only one day between the Golden Globe awards and the deadline for Oscar nomination ballots, the former has little impact on the latter anymore. However, that's not to say that what happens on Globe night has no effect on the winners' Oscar campaigns.
For actors in particular, the Globes are the most visible Oscar-night audition a contender can ask for. A memorable Globe moment can play into Phase II of Academy voting: Jamie Foxx's canny Golden Globe acceptance speech in 2005 pretty much sealed his Oscar win there and then, while Eddie Murphy's indifferent one two years later hardly galvanized Academy members into voting for him.
So, trivial as it may sound, it's worth taking into account the press and public reaction to Sunday night's victors. Kate Winslet's manic gushing may be earning her no end of criticism in the British press, but I suspect her evident gratitude at winning could go over well with Academy members. Meanwhile, Sally Hawkins' emotion-drenched near-breakdown on stage can only raise her profile if she garners an Oscar nod.
However, the Carpetbagger seems to feel (and I'm inclined to agree) that the real PR champ on Sunday was surprise Best Actor winner Mickey Rourke — whose eccentric acceptance speech, complete with tributes to canines past and present, was as memorable as it was oddly touching. (I don't mind admitting I teared up, but then I did lose a dog myself last year. Cut me some slack.) While the Bagger confesses he was hoping for some trademark Rourke controversy, he was thoroughly won over by the star's openness — and crucially, thinks his peers were too:
But there is another part of the Bagger that watched hopefully, wishing that Mr. Rourke would keep it between the lines. His candidacy for best actor took a huge step the other night and the audience of his peers at the Beverly Hilton nearly jumped in his lap. "Everyone in that room has had their ups and downs," said Aaron Eckhart, who was at a party held last night for Mr. Rourke hosted by LA Confidential. "We all felt good about what happened on that stage."
Meanwhile, Rourke's good behaviour apparently extended backstage too. The Bagger is equally impressed by the grace and patience with which he handled the inanities of the press room:
The Bagger won't go into the questions, but trust that there was every opportunity to end up sideways and say something stupid. But it was like spit balls against a battleship. Mr. Rourke was himself, no prisoner of decorum, but he navigated the room's abundant shoals and took his victory out into the Los Angeles night without a mark on him and plenty of momentum behind him. The newsman version of the Bagger went back to the filing room with a mostly empty notebook, but the part of him that tries to imitate a human being was elated.
That's not to say this makes a significant difference to Rourke's Oscar chances, but the man certainly doesn't hurt them by showing that he's willing to play the game, and play it politely. Much has been made of Rourke's unpopularity in the industry, but as the Bagger notes, his chief rival, Sean Penn, isn't the cuddliest figure either. If it does come down to a Penn-Rourke showdown on Oscar night — by no means a certainty, given the very real (and to me, dismaying) possibility of a Clint Eastwood intervention — the thesps' respective enemy lists may cancel each other out. That could lead voters to decide this race on performance alone, upon which it becomes anyone's guess.
There's a possibility, however, that an undecided voter may think back to Golden Globe night, and to Mickey Rourke's unconventional, unpredictable speech — and wonder what he may say on the bigger stage. With the Globes leaving this race delicately poised, all eyes should be on who SAG allows to speak next.