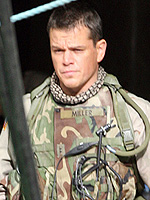 It's no secret that Paul Greengrass's "Green Zone" is one of my most anticipated films of 2009.  Part of a slew of Universal product that could find itself in the running for Oscar this time next year, the film is a loose adaptation of Rajiv Chandrasekaran's best-selling "Imperial Life in the Emarald City" and hopes to break the recent streak of popularly challenged dramas reflecting the conflict in Iraq.
L.A. Times journo John Horn has filed a brief but interesting back-and-forth with Greengrass about the production, which has been in the editing lab for nearly a year because of the amount of footage the director has shot on location around the globe.  Starring Matt Damon, Greg Kinnear and Amy Ryan, "Green Zone" might just be the film to bring audiences into the cinematic Iraq War discussion — or maybe it won't.
I'm also looking forward to Kathryn Bigelow's "The Hurt Locker" this year, which grabbed major raves in Toronto last September.  Here's a bit from Horn's piece:
"It is not a movie about Iraq," Greengrass said on the London set of his film last spring. "The hope is to make a strong, contemporary thriller that is set in Iraq. Thrillers thrive on extremity, and there is no more extreme environment than immediate post-invasion Baghdad," he said. (Indeed, the cinematographer's slate used during production titled the film not "Green Zone" but "Green Zone Thriller.")

The film follows Roy Miller (Damon), a warrant officer leading a team of 18 Army soldiers searching for weapons of mass destruction in late 2003, just after the American-led invasion.

Instead of a cache of deadly chemicals, though, Miller's team finds disorganization and ineptitude, and Miller soon grows desperate.

"It's a race against time to find those weapons," the 53-year-old British filmmaker says. "It's a race against time to catch Saddam Hussein. It's a race against time to establish essential services. And it's a race against time to win the confidence of the Iraqi people."
Check out the rest here.