Congratulations to Eunice, Rob, Justin Gonzalez and Jordan Raup for winning this week's trio of contests!
The haiku competition brought in the most entries.  It was the easiest to enter but it showed a love for "The Curious Case of Benjamin Button" amongst our readership to say the least.  Before mentioning the two winners, I have to give shout outs to Andrew L., for telling the whole story of the film with a series of haikus, and EVE, for writing all of her haikus backwards as well as forward.  Very creative.  But ultimately I settled on entries from Eunice and Rob:
What if winter comes,
In the spring of discontent?
What then, happens next?
How sad life would be
To die without the chance to
Reminisce of Youth
The "Dark Knight" contest, meanwhile, brought in a slew of contestants.  I was impressed by a number of Batman memorabilia collections (props to Diego ortiz for organizing his collection in the shape of a Bat) and wardrobe ensembles.  But the winner became clear early on.  It takes some dedication to commit the Bat to your skin for life, and Justin has the ink to prove it: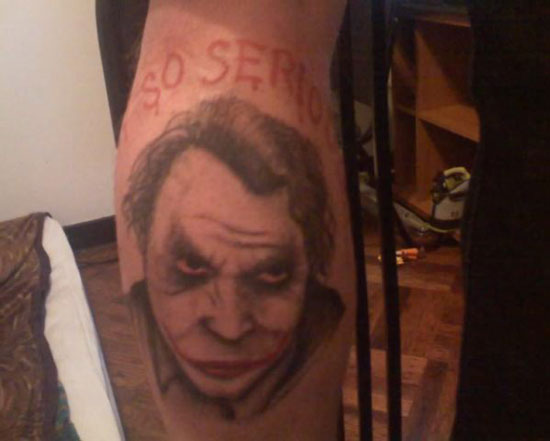 And finally, Jordan was quickest to the punch, correctly answering our "WALL-E" triva question on the origins of the film way back in the summer of 1994.
Congratulations once again to the winners!  Emails will be sent shortly requesting mailing addresses.