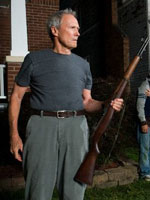 Though it ain't over till it's over, I think the five nominees for best actor have all but been decided.  Come nomination morning, I expect to hear the names of Clint Eastwood, Sean Penn, Frank Langella, Mickey Rourke and Richard Jenkins.
Of course I have no way of knowing if this is how things will end up, but I have a pretty good feeling (which means nothing). Left off the list will be Brad Pitt in "The Curious Case of Benjamin Button," which will garner the most nominations of any film, and Leonardo DiCaprio for "Revolutionary Road," a brilliant, dark and troubling masterpiece, destined to be re-discovered in years to come as perhaps the best film of the year and certainly DiCaprio's best work to date.
Eastwood is in partly because he is Eastwood and partly because he does fine work. The role is tailor made for him in the manner Rooster Cogburn was written for John Wayne in "True Grit," which won The Duke his only Oscar back in 1969. Eastwood gets to growl, cuss and throw out all sorts of racist comments in portraying a nasty old son of a bitch who turns out to have a heart. For anyone who has ever met or spoken to Eastwood, they will realize this character is light years away from the man, making it a startling performance.
I am so tired of reading that he is playing himself. Sure he is portraying an extension of himself.  All actors do that (and always have), but Eastwood is also portraying a variation on the sort of role that made him famous. Could Walt be "Dirty Harry" after retirement? Damned straight he could and perhaps this is why the film has been greeted so warmly in some quarters, because the reviewer sees Eastwood's character as an older version of Harry, a much loved character from years gone by, and a reimagination of his screen iconography.  It is sort of like seeing an old friend again.
Well…sort of.
If nominated, Eastwood will be a major threat to win the award. In fact, no, I'll just say what Kris has been saying for a few months, now that I've gone back to the film a third and fourth time: if nominated, Clint WILL win.
The unknown actors of "Gran Torino" only serve to elevate his work and the sentiment is hard to ignore — I've gone through all the variables. No, it is not the best performance of the year, nor was John Wayne's in 1969, but it will be an honorable winner at least.  No Begnini here.
Sean Penn deserves to win, in my opinion, for his stunning, I mean freakin' astounding performance as Harvey Milk in "Milk," which displays a range that makes me appreciate him even more than I already did.
Frank Langella is a long-time veteran actor moving between stage and screen, though he has enjoyed greater success on the stage. I first became truly aware of him after seeing his work in "Dracula" on stage in the 1970s.  I was amazed at the raw sexuality he brought to the role.  Many other actors had played the part of the Count before, but none had done so with such carnality.  Now as disgraced President Richard Nixon he gives a career capping performance that will land him his first Oscar nomination, capturing a raging soul and wounded pride under Ron Howard's careful guidance.
Good ole' Richard Jenkins must be smiling a lot these days.  A character actor probably best known for his television work over the years, with a career spanning nearly four decades, he became much more visible on the HBO series "Six Feet Under."  A few small parts here and there, from "Fun with Dick and Jane" to "Burn After Reading" display the manner in which his career has evolved. His work in "The Visitor" is breathtaking, a performance that might be the most honest piece of acting on screens this year.
And of course, there is Mickey Rourke.  Once one of the most gifted actors on the screen, the heir apparent to Brando, Nicholson and De Niro with an array of sublime performances in "Body Heat," "Rumble Fish," "Diner," "Year of the Dragon," "The Pope of Greenwich Village," "Angel Heart" and "Barfly," Rourke's repellent behavior saw his film end and his fighting career begin. But as Randy Robinson in "The Wrestler," he gives a performance that caps an extraordinary career — but I think he's made too many enemies to win the award.
So there you go, my prediction for the final five and a coming around to the idea of Eastwood taking the gold.  But who knows?  We could see Josh Brolin sneak in for his wonderful performance in "W.," one of the year's most under-appreciated films and performances.  Or the aforementioned DiCaprio and Pitt could bump any of these fine gents.  But I'm settling on these five.