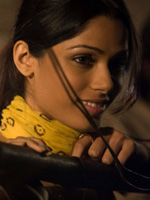 On a hot summer night last June at the L.A. Film Festival's opening night party, I ran into Picturehouse President Bob Berney, an independent film whiz and great awards campaigner. We talked about the imminent demise of his company (merged into Warner Bros. and then dumped), but he mentioned the possibility of releasing one more film, an oddball title he really liked that the defunct Warner Independent had produced but now those at (big) Warners admitted they didn't know what to do with. It was the cinematic equivalent of leftovers and problematic because it was small and partially in the Hindi language.

When I asked him if the movie, which I had never even heard of, "Slumdog Millionaire", had any awards potential, he said probably not, proving once again that nobody knows nothing, even as savvy a guy as Berney, who brilliantly guided Charlize Theron and Marion Cotillard to Oscars.
From Pete Hammond's recent "Notes on a Season" column.