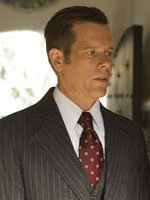 As "Frost/Nixon" continues to pop up as a formidable guild contender this awards season, I must say, despite my personal appreciation for the effective drama, I'm a little surprised.  It isn't the expert craftsmanship of "Slumdog Millionaire" or the creative explosion of "Synecdoche, New York," obviously, but it is a solid, well-constructed piece of work nonetheless.  And it is apparently reaping the benefits of being one of the few films of the year that is simply easy to watch.
Well, one of the elements from the film that stood out to me more than any other was Kevin Bacon's subdued performance as Nixon chief-of-staff Col. Jack Brennan.  Bacon is probably the ultimate "Wall of Shame" actor for the Academy, still waiting on his first nomination despite two decades of solid, effective work.  In a sense, his career is an interesting mirror of the film he stars in this year, a fine-tuned machine that isn't overly miraculous but is inarguable all the same.
Bacon remains one of my all time favorite interviews.  Probably my favorite interview.  We spoke once nearly five years ago when he was campaigning for "The Woodsman," a 2004 drama starring Bacon as a pedophile trying to cope in society that should have earned the actor more kudos than it did.  What was supposed to be a 20-minute discourse turned into nearly an hour of discussion, and for me, just a kid in college hammering out a piece for another outlet, it was the bee's knees.  He couldn't have been cooler or nicer, offering plenty of advice for a film school grad hoping to poke his way into the business some day.
With that in mind, I was happy to stumble upon this Daily Telegraph interview with the actor, who hasn't received a lot of press for his work in "Frost" this year.  Less an example of good writing from journo Nigel Farndale than a case study in letting the subject tell the story, it does a wonderful job of casting the Hollywood particulars to the periphery in favor of concentrating on Bacon the man more than Bacon the actor.
There are plenty insightful asides regarding Bacon's family life, his philosophy of raising children, his insistence on living away from the fray in New york, etc.  Farmdale scatters the piece with this nugget or that regarding roles in "Footloose," "JFK," "Mystic River" and "A Few Good Men," but mostly, its a character study of Bacon himself.  There was, however, this interesting remark concerning his adeptness at portraying military types on the screen that I thought I'd spotlight:
"I don't think I could cut it in the army but, hey, it was never going to arise. I'm an actor. I play marines. I've had them say 'you could do it' and I say 'trust me, I could not'. I don't think I have the marine mentality."

He gesticulates with his fork, conducting the conversation with it. "But I don't question my manliness. That's not something I struggle with. One of the fun things about being an actor is that you can put yourself in situations where you test yourself."
As we all do if given the chance, Farndale asks about the infamous "Six Degrees of Kevin Bacon," a game I should have to explain to anyone reading these words, but in case I do, click here.  Bacon's response was inspired, I thought:
Take me out of it and the idea of connectivity is kind of beautiful. A powerful, small world idea that says that whatever you or I are doing will affect other people down the road, for good or ill.
It's a great interview.  Check out the rest here.