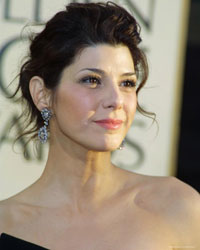 I'm coming around to Marisa Tomei rather late in the publicity game this year.  I didn't make it to Venice or Toronto and we just haven't crossed paths here in L.A. during this exhausting — as always — Oscar season.  But the first thing I have to ask is if she feels the pressure yet.
A studio can run an artist ragged this time of year, especially when they're on the cusp of an Oscar nomination.  And that's a position Tomei undoubtedly finds herself in as we move into the new year and her performance in Darren Aronofsky's "The Wrestler" continues to light up the circuit.
"I'm getting there," she says of the approaching fatigue factor.  But you wouldn't know it from the energy that still pops.  Those bright brown eyes are as beautiful as you'd expect, of course, and that laugh is infectious.  She's fresh off a much-needed holiday vacation — back east for Christmas and home in L.A. for new year's, quiet and with depressurizing on the mind.
When she comes over to the table she takes a moment to speak to a fellow celebrity sitting adjacent to us before popping open the menu and declaring, "I'm gonna eat."  What was going to be maybe a half-hour discussion over coffee turns into almost an hour of talk over lunch, topics ranging from her early passion for acting to her attempt at going back to college at one point in her career to, of course, the process of creating Cassidy, the "stripper with the heart of gold" at the center of "The Wrestler."
Tomei went to a number of strip clubs while preparing for the role, conversations with this dancer or that.  But the preparation wasn't as intensive and deep as I might have expected given the fact that the actress pulls off what is probably the most authentic depiction of an exotic dancer ever captured on screen.  "I'm so glad you said that," she says, "because a lot of guys have told me that; but they won't say it in public, I guess, because they don't want to say they've been to a bunch of strip clubs or whatever."
I pick my lower jaw up off the table after she tells me her boyfriend at the time of production "got a lot of free lap dances" as a result of her preparation, in order to carry on with the interview.  The discussion inevitably moves to her collaboration with Mickey Rourke on the screen.  Tomei has said one of the reasons she wanted to work on "The Wrestler" was Darren Aronofsky's vision of the piece, this parallel story of two entertainers and how a love story is nurtured within that space.
"I think Mickey is kind of tough and then tender," she says of her co-star's Teddy Bear personality.  "And I'm tender and then tough, so it was fun playing with that and weaving things in and out."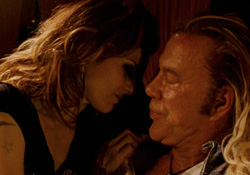 But Tomei's first day of shooting didn't allow for much of a warming up process.  A few friendly greetings with the cast and crew and then, off with the clothes for an early lap dance sequence in the film.  "I don't know these people, I'm naked, I have to dance," she says, recalling the awkward moment.  "And Mickey's a pro!"  The infectious laugh hits again.  The comment is more indicative of Rourke's fair share of exotic dances than it is his storied acting career.
Tomei's performance, meanwhile, has captured the hearts of critics throughout the country.  She's racked up nine critics awards so far, making her the most lauded of the supporting actresses contending this year, yet the Screen Actors Guild failed to recognize her work in the film.  "It would have been nice to have been recognized by my peers," she says, but she isn't willing to compare one to the other.  "It's just nice to be in the mix."
The last time Tomei was "in the mix," it was 2001's "In the Bedroom" and, to a lesser extent, 2007's "Before the Devil Knows You're Dead."  Fixtures in a long run of darker works, these recent roles have been a source of redefinition for her career as of late.  But she's been there before.
After the accolades and Oscar-winning run of "My Cousin Vinny" in 1992, it seemed the industry had pegged her as a comedic actress first and foremost.  Such is the nature of things.  She tries to balance screen work with theatrical performances as much as possible to keep the ship steady, but she says she's looking forward to diving into a comedy once again after this recent line of dramas.  "I'm going to be working with Jonah Hill and John C. Reilly," she exclaims, grinning ear-to-ear.  The currently untitled Jay and Mark Duplass project begins filming later this month.
For now, though, it's all about "The Wrestler."  Tomei continues a somewhat stealthy awards run on the way to what may or may not be an Oscar nomination on the morning of January 22.  And she's late for a formal dress fitting for the upcoming Golden Globe Awards, where she finds herself nominated alongside Amy Adams, Penelope Cruz, Viola Davis and Kate Winslet.  Whatever happens, I'm sure she'll take it in stride.