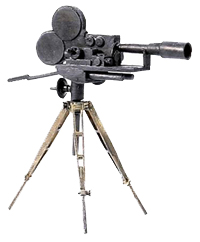 Those fortunate enough to have caught John Patrick Shanley's "Doubt" in its original Broadway run were almost unanimous in their praise for it.  When Shanley announced his intention to bring the play to the screen — starring Meryl Streep, Philip Seymour Hoffman and Viola Davis, no less — many were skeptical of his ability to transform the very theatrical piece into a cinematic work.
Cinematographer Roger Deakins, production designer David Gropman, costume designer Ann Roth, film editor Dylan Tichenor and music composer Howard Shore all had pivotal roles in making that happen.  Shanley, despite his acclaim as a playwright and screenwriter, had only directed one previous feature film.  And "Joe Versus the Volcano" is hardly considered a masterpiece of cinema.  Deakins nonetheless recalls that the director came to the set with very concrete ideas of what he wanted, and did not come across as inexperienced at all.
"He knew what he wanted to see and turned to me to realize it," he says.  Tichenor adds that, despite having written the play, Shanley was "not overly precious about his work, which was good as we had to cut a lot out."
Gropman already had a brief history with Shanley, having worked with him on an off-Broadway play in the 1980s.  "There was never a moment where experience was an issue," he says of the director.  And while she had not worked with Shanley before, Roth, who also cut her teeth on theatrical productions, acknowledges she could work together easily with him because of their shared background.
"There are some film directors who just use actors as part of visual scenery," she says, adding that, conversely, theater directors tend to start with the actor and then build the scenery from around him or her.
"Doubt" is unquestionably a small, intimate film where excessively showy work from the crafts artists had significant potential to prove distracting.  Shore says he felt it was important to reflect that fragility in the score.  "Much of the music was church music that I needed to blend in with the score," he says.  "I needed to capture that intimacy so I wrote the score for just 17 musicians."
Roth, meanwhile, notes that this was not a film where she had a great deal of opportunity to show off a glamorous wardrobe.  "The costumes for the three principal characters were pretty much dictated by church dress of the time," she says.  "But it was interesting to fashion kids in the Bronx, wanting to look sharp despite coming from blue-collar families."  But in this "hellishly busy" year (she also designed the threads for Stephen Daldry's "The Reader" and Phyllida Lloyd's "Mamma Mia!"), Roth says "Doubt" was probably the easiest of her projects.
For his part, Gropman admits he loves to show some pizzazz on his sets.  "It's in my nature," he says.  "I have a great deal of respect for the written work, though I want to tell the story visually."
Tichenor, despite having worked on very successful efforts like "Brokeback Mountain" and "There Will Be Blood," has never really edited a film in a manner that could be described as "showy," or a film that would even demand that kind of treatment.  "I think you can get distracted by trying to be fancy with the editing," he says.  "I don't cut big action movies and while I would like to, that's the time for flashy editing."
Due to the period nature of the film, Roth acknowledges that much more research was required than would be the case in a contemporary piece.  That said, she does not consider period to be more difficult than contemporary.  "I probably do too much research," she says.  "If anything, it's easier and nicer."
Gropman agrees, adding that "you want to make sure that everything is correct and thus start with a trip to the library.  When you have a contemporary film, like 'The Shipping News,' it's incredibly important as the world is such a pertinent element of the story."
From a musical point of view, Shore agrees that the first thing to do is "capture the time and place, which in this case was 1964 and The Bronx."  His use of folk instruments was an attempt to bring the audience back in time, he says.  And while many composers are hired at the last minute, Shore prefers to be involved in the process as early as possible.  On "The Lord of the Rings," for instance (an effort of which he says "everything I know about filmmaking and drama is in those 10 hours"), he was involved very early on.  "Being part of the production leads to the best results in the filmmaking," he says.
On "Doubt," however, that was impossible.  Shore took over for Philip Glass on short notice, and he admits that certain difficulties arose from that.  "I had to sit back and try to watch it from an audience point of view," he says.  "I needed to see what it said to me so that I could get a vision for appropriate music that I otherwise could have built up by working on the film from the beginning."
Gropman adds that it was challenging to shoot a film where almost the entire story took place on just four sets: Sister Aloysius's office, the school, the church and the church garden.  "When you have such a concentration in one set, particularly the office, you feel an even greater responsibility for getting it absolutely right," he says.
A second-and-half in Sister Aloysius's office is also what Tichenor recalls as his biggest challenge on the film.  A moment he describes as "resignation but not an admission" from Hoffman's Father Flynn had to be arranged perfectly for the time frame.  "It was a turning point in the film," he says, remarking on how it was in many ways the climax of the battle between the two protagonists of the films.  "We had to get it exactly right."
Gropman was quick to note, as always, the importance of collaboration between crafts artists on the film.  Though having only worked with Deakins once, 15 years ago, he says the two have remained friends, and he understands the necessity of altering sets to suit the cinematographer's vision.
"The lights in Sister Aloysius's office, for example, needed to be in a way that Roger could use them," he says.  "Roger needed to accurately light the set and by having the [practical] lights which I had placed there, it became much easier and more realistic."
Shore also notes that he works closely in tandem with the film editor and the sound technicians as post-production winds down.  "It's necessary so that the whole film comes together," he says.
Tichenor expands on that, noting the relationship with the composer as virtually non-existent, because some composers like to have an entirely finished picture before they start writing music.  Nonetheless, he adds that he tends to get demos from composers when he can.  "The method I find the most successful is when we hire the composer early on and we all get excited or inspired by the script."
I could not help but ask these individuals what they considered to be the "lowlights" of being below-the-line talent in the industry, despite such great efforts in improving films, efforts that Tech Support seeks to shed light on.
While Deakins admits he has had his share of bad experiences on Hollywood films, and that "the lows can be lows" in the business, he re-iterates that he's "thrilled to be a part of it."  Gropman adds that he feels fortunate to have worked on the projects he has designed and to have collaborated with the directors he has.  "You hear a lot of production designers who complain: 'This movie is nothing but close-ups,' or 'It's so dark you couldn't see anything.'  But I never feel that way.  Work should be able to survive in a film with nothing but close-ups and darkness."
Tichenor sometimes shoulders the all-too-familiar below-the-line publicity burden, he says.  But he adds that more people are beginning to understand film editing, especially with camera technology putting the craft in the hands of laypeople.  "While I certainly can feel underappreciated, I also feel more appreciated than ever," he says.
That attitude toward crafting –- serving the story while using the expertise of their art –- is what all five of these individuals clearly seek to do day in and day out.  "Doubt" is the latest entry into their filmographies.  I'll anxiously be awaiting the next ones.