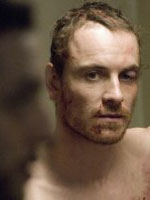 Guy has already touched upon some BAFTA coverage today.  The Brits like to draw out their nominations process as long is possible, and good on 'em for it.  You gotta compete in this flurry of awards season announcements.
Anyway, the nominees for the Orange Rising Star award were announced earlier today, and they are:
Michael Cera
Noel Clarke
Michael Fassbender
Rebecca Hall
Toby Kebbell
This is a tough call for me, the toss-up being Michael Fassbender and Rebecca Hall.  The former was an absolute sensation in "Hunger," while the latter is probably the best part of Woody Allen's "Vicky Cristina Barcelona," despite Penélope Cruz nabbing the raves.  My guess is Hall takes it.
Here's a bit from the press release:
The Orange Rising Star Award is unique as it is the only Award presented at The Orange British Academy Film Awards to be voted for by the British public.  Film fans can have their say by voting via the Orange website HYPERLINK "http://www.orange.co.uk/bafta" orange.co.uk/bafta; or via text. The winner will be announced at The Orange British Academy Film Awards on Sunday 8 February 2009…

Nominees must have featured in a film that has been entered for this year's Orange British Academy Film Awards. Nominees will have usually already appeared in several feature films in their career so far.
Last year's winner was Shia LaBeouf, who announced this morning's nominees.