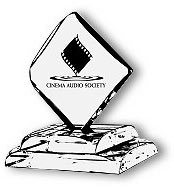 The five contenders for the 2009 Cinema Audio Society (CAS) Awards are:
"The Dark Knight"
"Iron Man"
"Quantum of Solace"
"Slumdog Millionaire"
"WALL-E"
So this is the second "Defiance" snub that has surprised me so far, following Eduardo Serra coming up short with the lensers earlier today.
"The Dark Knight," "Iron Man" and especially "WALL-E" were certainly expected, but the show of support for "Slumdog Millionaire" indicates the deep industry love this film has going for it.  I wouldn't necessarily expect this to translate to a Best Sound Oscar nomination, given the fates of films like "Finding Neverland," "Crash," "Babel" and "Into the Wild," Best Picture frontrunners that scored with CAS but missed with AMPAS (though "Wild" is something of an anomaly there).
Then again, "Slumdog" is a much more craftily conceived piece of filmmaking than those efforts.  I thought the sound was amazing, personally.  So perhaps this could be the first year since 2003 that the guild matches the Academy's picks 5/5.
The inclusion of "Quantum of Solace" is particularly interesting, though.  "Casino Royale" had a solid showing in the 2006 guild circuit, scoring with the art directors, costume designers, sound editors and even the visual effects artists.  But the mixers in the CAS gave it the cold shoulder where a lot of us thought the film had its best shot.  That the Society would tip its hat to the sequel is somewhat telling, I'd say.
With that in mind, I'd be tempted to predict this quintet for Oscar as well.  The only Edward Zwick movie to miss a CAS nomination and turn up in the Academy's tally was "Legends of the Fall" in 1994.  So there is still hope for mixing legends (and branch favorites) Anna Behlmer and Andy Nelson.  But the duo also have two other contenders in play: "Australia" and "Cloverfield," which might be leaving their colleagues with too many choices.
There are a number of other possible surprise nominees in the mix, all of them featuring respected sound mixing talent.  Add to the aforementioned "Australia," "Defiance" and "Cloverfield" (my pick for the best work here in 2008) "Body of Lies" and "Valkyrie," and you're still looking at a number of possibilities.  And let's not forget another Best Picture frontrunner, "The Curious Case of Benjamin Button," strong in this arena in a number of sequences.  But I would have expected a mention here if it was in the cards for Oscar.
Like I said, this is a smart list to bet on, with "Defiance" as the spoiler.