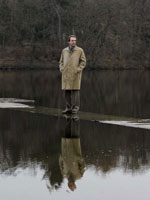 The American Society of Cinematographers have announced their annual list of nominees, which are:

"The Curious Case of Benjamin Button" (Claudio Miranda)
"The Dark Knight" (Wally Pfister)
"The Reader" (Roger Deakins and Chris Menges)
"Revolutionary Road" (Roger Deakins)
"Slumdog Millionaire" (Anthony Dod Mantle)
I'm pleasantly surprised by the "Reader" inclusion.  Though I didn't care for the film, one of the first things I noted was the sublime photography.  This could carry over to Oscar, but I must say I'm somewhat surprised Eduardo Serra's beautiful work in "Defiance" was excluded.  Harris Savides, meanwhile, continues to come up short with his peers despite being the best in the game (and many of his peers would say the same thing, which makes it all the more baffling).  And the "Australia" snub is hardly surprising since Mandy Walker's work never reached the level many anticipated.
But all this brings me to a question I've had racing through my head for some time now: could Claudio Miranda be the one of this lot snubbed of an Oscar nod?  The Academy has shown a bias against digital photography where the guild hasn't.  "Apocalypto" and "Collateral," you'll recall, failed to translate their ASC nomiantions into AMPAS love, so it's certainly something to consider.
WGA on the way…