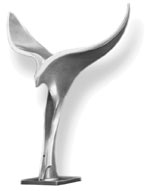 I almost let this one slip by without taking a stab at it.  It's all happening!
Anyway, the Writers Guild of America (WGA) will be announcing its list of screen nominees tomorrow.  I figured I'd take an in-depth look at both categories, starting with the original scripts, which provide a much broader field than the adaptations.
Understand that foreign films and animated films are not eligible with the WGA, so you won't be seeing nominations for "I've Loved You So Long" or "WALL-E."  The former probably didn't have much of a shot, but with Andrew Stanton and company out of the picture, it helps to narrow things a bit…but not by much.
Looking deeper at the equation, Mike Leigh has only been nominated by the guild once, way back in 1996 for "Secrets & Lies."  My hunch is the guild doesn't much respect his penchant for improvisation as opposed to proper screenwriting, even if the Academy's writing branch has allowed for it in recent years.
Woody Allen's whopping 18 nominations would make him a seeming lock but then again, his last guild nod was back in 1995 for "Mighty Aphrodite."  The Academy has nominated him for "Deconstructing Harry" and "Match Point" since that time, but "Vicky Cristina Barcelona" is probably his most well-liked film in over a decade, so it's probably secure.
Next, it's worth noting that the WGA likes its comedies.  "The 40 Year Old Virgin," "Garden State," "The Station Agent," "Bend It Like Beckham" and "Best in Show" represent a handful of original screenplays that have been nominated here even if they managed to be left out of the Academy's tally.  So something tells me a shocker like "Pineapple Express" or "Tropic Thunder" showing up shouldn't be much of a shock at all, but I'm more tempted to go with Martin McDonagh's brutally dark "In Bruges" instead.
I see no real reason to bet against Jenny Lumet's "Rachel Getting Married" (though I could be on autopilot with that assumption) or Thomas McCarthy's "The Visitor" (as mentioned, recognized here in 2003 for "The Station Agent").  So that leaves one more spot to fill.
There is always one Best Picture nominee left out of this guild's slate of nominees even if it manages to find love with the Academy's writing branch.  Examples have included "Atonement," "Letters from Iwo Jima," "Munich" and "Finding Neverland."  My guess is it's a toss-up between "Frost/Nixon" in the adaptations and "Milk" here in the originals for that unfortunate designation this year.  But I'm going to go ahead with the assumption that Dustin Lance Black is on sturdy ground with his work on the Harvey Milk biopic.
One quick note before I get to my predictions, however: I have no idea how any industry guild or organization will respond to Charlie Kaufman's "Synecdoche, New York."  If the WGA sees the brilliance, great, grand…but I'm not counting on it.
I'm going with this set:
"In Bruges" (Martin McDonagh)
"Milk" (Dustin Lance Black)
"Rachel Getting Married" (Jenny Lumet)
"Vicky Cristina Barcelona" (Woody Allen)
"The Visitor" (Thomas McCarthy)
Other possibilities:
"Burn After Reading" (Ethan Coen, Joel Coen)
"Pineapple Express" (Seth Rogen, Evan Goldberg)
"Tropic Thunder" (Etan Cohen, Ben Stiller, Justin Theroux)
"The Wrestler" (Robert D. Siegel)
What about you?