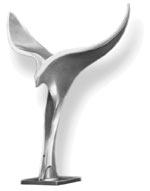 (Original screenplay predictions here.)
The adapted field is a little easier to manage.  But I wouldn't look to USC's typically road-less-traveled nominees for much of a barometer for the adapted screenplay race, however.  That's folly of a different sort.  So we're left to our own devices.
Once again, foreign and animated films are not eligible here.  This probably affects "The Class" and "Gomorrah" more than anything else.  I doubt "The Tale of Despereaux" has much in the way of screenplay hopes this season.  Ditto "Let the Right One In," however vile the idea.
As mentioned in the originals discussion, the WGA likes its comedies.  "Mean Girls," "Bridget Jones's Diary" and "High Fidelity" are a few examples of adaptations to make the cut here while missing with the Academy.  The only problem is…there isn't really an applicable comedy adaptation in the mix.  Had, say, "Nick and Norah's Infinite Playlist" or "Yes Man" been somewhat more memorable, then maybe.  But that's about all we have to pull from.  So maybe it isn't a bad thing.  Anything that makes the guessing game a little easier is fine by me.
I'd say the safest bets here are the two Best Picture frontrunners: "The Curious Case of Benjamin Button" (written by Eric Roth) and "Slumdog Millionaire" (Simon Beaufoy).  And even though I just finished telling you the Scripter nominees shouldn't matter, I nonetheless think David Hare's adaptation of "The Reader" might have a strong foothold here, even if it misses with Oscar (which it might not).  Ditto Justin Haythe's "Revolutionary Road."
That leaves a battle of the plays: "Doubt" versus "Frost/Nixon."  As I said earlier, there is always at least one eventual Best Picture nominee left off the guild's slate, even if it manages a nomination with AMPAS writers.  My bet is that's going to be "Frost/Nixon" this year, so chalk one up for "Doubt."  But I'm not solid on that either, because…
…the big question mark is "The Dark Knight."  I think the PGA nomination was a given and I don't think a SAG ensemble nod should have really been expected.  The Scripter snub was odd, but meaningless in the face of the awards landscape, because it isn't an industry organization.  So the first real, true, honest-to-God test for this film and its Oscar hopes comes with tomorrow's announcement.  I'm strangely expecting a snub, one that might carry over to Oscar even if a Best Picture nomination stays in the cards.  But even so, that's shaky ground to be on.  Only a DGA nomiantion Thursday could right the ship if WGA takes a pass.
My predictions:
"The Curious Case of Benjamin Button" (Eric Roth; based on the short story by F. Scott Fitzgerald)
"Doubt" (John Patrick Shanley; based on his play)
"The Reader" (David Hare; based on the nivel by Bernhard Schlink)
"Revolutionary Road" (Justin Haythe; based on the novel by Richard Yates)
"Slumdog Millionaire" (Simon Beaufoy; based on the novel "Q&A" by Vikas Swarup)
Other possibilities:
"The Dark Knight" (Christopher Nolan, Jonathan Nolan; based on characters appearing in DC Comics)
"Defiance" (Clay Frohman, Edward Zwick; based on the book by Nechama Tec)
"Frost/Nixon" (Peter Morgan; based on his play)
What about you?