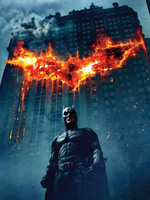 In lieu of a proper Tuesday list, I thought I'd do something a little different this year, since we have a slew of contributors and In Contention is no longer the brain space of just one person.  I polled all our writers for their individual top 10 lists, which you can find detailed after the jump.  But with the lists in hand, I pulled out the trusty abacus and went about the painstakingly in-depth analysis of each to surmise a collective top 10.  The results were interesting.
No film appeared on all five lists, which is already an accomplishment, I'd say.  Four films appeared on four lists and four on three.  The remaining two films on the collective appeared on two lists.  No film popping up on just one list was taken into account, so you don't get to march with torches over a "Bolt" inclusion.
"The Dark Knight" became the obvious victor early on, but Charlie Kaufman's "Synecdoche, New York" came a lot closer than you might think.  I used a simple point system per ranking, but in all scenarios, the number of lists featuring a film was given precedence over points.  This made for a good tie-breaker here and there and, in some cases, caused for this film or that to leap-frog another.
Consider this my ultimate salute to our contributors who, I doubt I'm alone here, did a bang-up job in 2008.  Here's to an equally splendid 2009.
In Contention's top 10 films of 2008:
1. "The Dark Knight"
2. "Synecdoche, New York"
3. "Slumdog Millionaire"
4. "WALL-E"
5. "Milk"
6. "The Curious Case of Benjamin Button"
7. "The Wrestler"
8. "Let the Right One In"
9. "Rachel Getting Married"
10. "In Bruges"
Honorable mention: "Gomorrah," "Hunger," "Pineapple Express"
(Individual lists after the jump.)
John Foote (column)
1. "The Dark Knight"
2. "The Curious Case of Benjamin Button"
3. "Milk"
4. "The Wrestler"
5. "Revolutionary Road"
6. "Che"
7. "Changeling"
8. "Frost/Nixon"
9. "Slumdog Millionaire"
10. "Vicky Cristina Barcelona"
Brian Kinsley
1. "The Fall"
2. "WALL-E"
3. "The Curious Case of Benjamin Button"
4. "Let the Right One In"
5. "Synecdoche, New York"
6. (tie) "Snow Angels" and "Pineapple Express"
7. "The Wrestler"
8. "Cloverfield"
9. "Towelhead"
10. "Kung Fu Panda"
Gerard Kennedy
1. "Rachel Getting Married"
2. "Man on Wire"
3. "In Bruges"
4. "The Dark Knight"
5. "WALL-E"
6. "Doubt"
7. "Milk"
8. "Let the Right One In"
9. "Slumdog Millionaire"
10. "The Curious Case of Benjamin Button"
Guy Lodge (column)
1. "The Class"
2. "I've Loved You So Long"
3. "Wendy and Lucy"
4. "Synecdoch, New York"
5. "Gomorrah"
6. "Happy-Go-Lucky"
7. "Hunger"
8. "In Bruges"
9. "Heartbeat Detector"
10. "WALL-E"
Blake Rutherford
1. "The Dark Knight"
2. "Synecdoche, New York"
3. "Slumdog Millionaire"
4. "Milk"
5. "The Visitor"
6. "4 Months, 3 Weeks and 2 Days"
7. "Rachel Getting Married"
8. "Flight of the Red Balloon"
9. "The Edge of Heaven"
10. "WALL-E"
Kristopher Tapley (column)
1. "Slumdog Millionaire"
2. "Bolt"
3. "Synecdoche, New York"
4. "Pineapple Express"
5. "The Dark Knight"
6. "Hunger"
7. "The Wrestler"
8. "Dear Zachary: A Letter to a Son About His Father"
9. "Gomorrah"
10. "Let the Right One In"