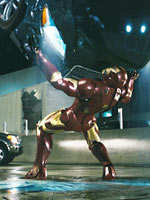 Last month, the Academy whittled the contenders for Best Visual Effects down to 15 hopefuls.  Today, the branch has chipped away at it further.
And then there were seven:
"Australia"
"The Curious Case of Benjamin Button"
"The Dark Knight"
"Hellboy II: The Golden Army"
"Iron Man"
"Journey to the Center of the Earth"
"The Mummy: Tomb of the Dragon Emperor"
And from the press release:
On Thursday, January 15, all members of the Academy's Visual Effects Branch will be invited to view 15-minute excerpts from each of the seven shortlisted films. Following the screenings, the members will vote to nominate three films for final Oscar consideration.
The most surprising omissions are probably "The Chronicles of Narnia: Prince Caspian" and "The Incredible Hulk."  Maybe "Indiana Jones and the Kingdom of the Crystal Skull" if you want to go there, but I don't.  I can't believe it made the list of 15, frankly.  And after watching "Hancock" again over the holiday, as well as the visual effects featurette, I was beginning to think it might have a decent shot.  But my guess is that we're still looking at "Button" and "Iron Man" as sure bets with "The Dark Knight" likely filling in the third and final slot.
Then again, this show of love for "Hellboy II" could translate to somewhat unexpected nominations both here and in the makeup field.  And I feel like "Journey to the Center of the Earth" has more stroke with this group than many are assuming.