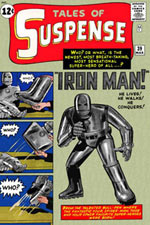 Now THAT's what I call crashing the party.  I don't know how you nominate "Iron Man" over "The Dark Knight" in a category such as this, but nice to see someone standing up and being original.
The 2008 USC Scripter nominees are:
"The Curious Case of Benjamin Button"
"Iron Man"
"The Reader"
"Revolutionary Road"
"Slumdog Millionaire"
I kind of expect Mr. Roth to win here, even if "Button" is beaten out by "Slumdog" at the Oscars.  But we'll see.  The winner will be announced at the Jan. 30 gala, which I'll be attending.  If you recall, this will be the first year the USC Libraries will unveil the winner at the actual show.
As for Oscar, the WGA will be the first true road to the adapted screenplay category.  The guild that stirred up a storm a year ago will announce its nominees on Thursday.  Could "Iron Man" pop up here again?  Time will tell.