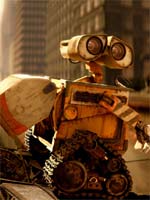 I hadn't realized I'd let my predictions linger, unattended, since November — I revised them in my head and guess I thought that would somehow magically appear on the site. Anyway, I thought it best to do some cobweb-clearing before the PGA announcement later today (for the record, I'm going with "Button," "Knight" "Milk," "Slumdog" and "WALL-E") sends the guessing game into a new dimension. You can find my revised nomination predictions here.
I'm still playing with some quirky, no doubt foolhardy, notions, but I like to keep things fun before the Guilds force us to get serious. Many categories still look like a complete crap-shoot to me: in the confounding Best Actress race, for example, I'm experimenting with a Kate Winslet snub, while dipping (reluctantly) into the Angelina Jolie pool for the first time. It doesn't feel good.
In the top race, I'm still banking on "WALL-E" leapfrogging "The Dark Knight" as the populist choice, though I wouldn't be surprised to see both in there. I'm happy with four of my Best Picture runners, but couldn't settle on a fifth: "Revolutionary Road" is freezing over, "Frost/Nixon" has ticked all the boxes but doesn't seem to be anyone's favourite, and the other most-mentioned contenders are a pretty passionless bunch too. Instead of flipping a coin between them, I decided to go a little crazy and try "Happy-Go-Lucky" on for size.
Below the cut, for the hell of it, some winner picks to accompany Kris's last week. In the top race, I've moved on from my earlier prediction of a "Milk" victory (seeing the film helps sometimes), but something still doesn't feel right about "Slumdog Millionaire" to me — it seems like the kind of film that would benefit from going into the Oscar race as an underdog rather than the favourite. I honestly have no idea, so I'll take that as an excuse to go mental again until I get a clearer sign.
Best Picture: "WALL-E"
Best Director: Danny Boyle, "Slumdog Millionaire"
Best Actor: Sean Penn, "Milk"
Best Actress: Anne Hathaway, "Rachel Getting Married"
Best Supporting Actor: Heath Ledger, "The Dark Knight"
Best Supporting Actress: Viola Davis, "Doubt"
Best Adapted Screenplay: "Slumdog Millionaire"
Best Original Screenplay: "Happy-Go-Lucky"
Best Art Direction: "The Curious Case of Benjamin Button"
Best Cinematography: "The Curious Case of Benjamin Button"
Best Costume Design: "The Duchess"
Best Film Editing: "Slumdog Millionaire"
Best Makeup: "The Curious Case of Benjamin Button"
Best Music – Original Score: "The Curious Case of Benjamin Button""
Best Music – Original Song: "Jai Ho" from "Slumdog Millionaire"
Best Sound Editing: "WALL-E"
Best Sound Mixing: "The Dark Knight"
Best Visual Effects: "Iron Man"
Best Animated Feature Film: "WALL-E"
Best Documentary Feature: "Blessed is the Match: The Life and Death of Hannah Senesh"
Best Foreign Language Film: "Everlasting Moments"