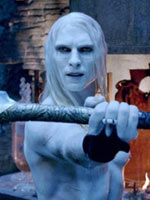 The first bake-off of the season is here, narrowing the Oscar contenders for Best Makeup down to seven.  The finalists are:
"The Curious Case of Benjamin Button"
"The Dark Knight"
"Hellboy II: The Golden Army"
"The Reader"
"Synecdoche, New York"
"Tropic Thunder"
"The Wrestler"
No major surprises here.  My predicted three are still in the mix.  In fact, I missed the top seven in my chart by just one, "The Reader" in favor of "Frost/Nixon."  But the show of support for "The Wrestler" is certainly telling, and perhaps a worthy inclusion, given the attention to brutal battle detail in the pro wrestling flick.
If there are any surprise omissions, it might be the aforementioned "Frost/Nixon," or perhaps "W."  Oh, and "The Chronicles of Narnia: Prince Caspian."  I believe the first installment made it this far.  No go on the considerably less popular sequel.  But on the whole, this process seems to have been organic enough, leaving us with a solid septet.  I could see any combination of three making it in.