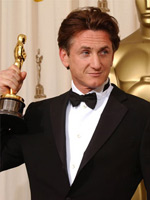 The Los Angeles Film Critics Association, the National Society of Film Critics and New York Film Critics Circle have agreed nine times on their choice for best actor of the year, including Sean Penn this year for his riveting work in "Milk."  On five of those occasions, the gentleman has gone on to win the Academy Award for Best Actor.
Robert De Niro was first for "Taxi Driver," one of the great film performances which lost the Oscar to Peter Finch in "Network," a posthumous award for the British actor.  Dustin Hoffman would win across the board three years later for "Kramer vs. Kramer."  In 1981, Burt Lancaster won across the critical board for "Atlantic City," but he lost the Oscar to sentimental favorite Henry Fonda in "On Golden Pond."
British actor Bob Hoskins would nab all three critical awards for his decent mobster in "Mona Lisa" but had no chance against Paul Newman in "The Color of Money" come Oscar time.  Daniel Day-Lewis has twice won the critical hat trick with "My Left Foot" and last year for "There Will Be Blood," making him the only double winner of the honors.
Nicolas Cage won all three critics prizes for his doomed drunkard in "Leaving Las Vegas," no doubt edging out Sean Penn in "Dead Man Walking."  And for his seething work as Idi Amin in "The Last King of Scotland," acting great Forest Whitaker won with the critics and with Oscar.
Sean Penn seems poised to take the golden guy one more time…