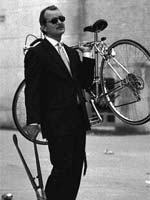 With Sally Hawkins and Sean Penn each picking up a gong from the National Society of Film Critics yesterday, the two actors thus complete the trifecta of major critics' awards, having already taken the New York and Los Angeles critics' respective honors. (I know some refer to the 'big four,' but we all know the National Board of Review isn't really a critics' group.)
Ordinarily, such a sweep would make both shoo-ins for an Oscar nomination, which is certainly true in Penn's case. Hawkins, however, continues an unusual awards trajectory — the unequivocal critical favorite who has been unaccountably overlooked by SAG and the Broadcast Film Critics. I remain confident Hawkins will find her way into the Oscar circle, but those peculiar snubs prevent her from being the slam-dunk she should be.
With that in mind, I did some historical digging to find out if there's a precedent for an actor taking the 'big three' critics' prizes, and yet missing out on an Oscar nomination. As it turns out, there is one, and his name is Bill Murray.
His hilarious supporting turn in 1998's "Rushmore" (which remains, for me, the only element of a Wes Anderson film I've ever wholly liked) essentially instigated the revival of Murray's cool, and was duly rewarded by the NYFCC, LAFCA and NSFC, but neither SAG, nor the Academy, were amused. Chances are the film was too eccentric for their tastes, or Murray was still too prickly a figure for them to embrace as they did (sort of, at least) five years later.
The quirkiness of "Happy-Go-Lucky" as a vehicle may have proved a similar obstacle to Hawkins' chances with SAG and the BFCA, though I ultimately think she suffered from voters' fear of unfamiliar faces. So, I'd just like to take this opportunity to remind the Academy of the unprecedented snub the made ten years ago — particularly egregious given that the 1998 Best Supporting Actor nominees comprise, for me, one of the blandest acting fields of recent years. (Robert Duvall in "A Civil Action?" With all due respect to a great actor, can any of you remember that?)
Snubbing Bill Murray in 1998 not only made the Academy look curiously out of step with critical opinion, but also suggested their sense of humor was somewhat lacking — both of which would be true again if they repeat the omission with Sally Hawkins. Don't make the same mistake twice, guys.