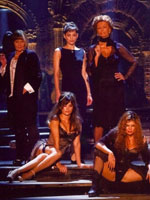 UPDATE (8:41pm): Glenn from Stale Popcorn wants it known he was lord of this observation a long time ago.  With the animated film "$9.99" thrown in to boot.  Got it?
EARLIER: Gregory Ellwood has made a shrewd observation about next year's Oscar race that could prove to be an interesting source of confusion for some voting bodies.  Here's the crux of his argument:
Now, it's rare that Hollywood studios don't work out movie titles before production begins.  In fact, that's one of the unknown benefits of being a member of the MPAA, they make sure everyone plays fair in such matters (or they make you play fair).  However, two movies with the same title, but spelled differently, are heading for release later this year: Focus Feature's CG animated flick "9" and the Weinstein Company's expected last gasp, "Nine."

Normally, this wouldn't matter much except for one thing: "Nine" is a total Oscar bait flick.  Meaning?  Although it's filled with big names like Nicole Kidman, Daniel Day-Lewis, Penelope Cruz, Judi Dench and Stacy "Fergie" Ferguson, the musical's box office performance is highly dependent on Awards Season love and, just about a year from now, Oscar nominations to drive its second wave of revenue.  And yet, when the list of possible Oscar nominees appear on voter's doorsteps (known as the Reminder List of Eligible Releases), do you know what title will be at the top of the list?  "9."  No, not Harvey's hope for "Chicago Deux," but the post-apocalyptic animated flick that has online geeks buzzing.  See, the nominee list members receive is alphabetical, but numbered titles appear first and there is little doubt that "9" will be a part of that list as well.
Can't believe I didn't think of this already.  Anyway, check out the rest at HitFix.