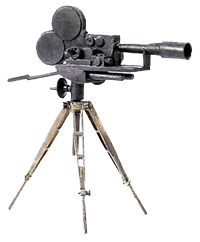 In less than a decade, filmmaker Sam Mendes has established himself as one of the most intriguing directors of his generation. "Revolutionary Road," his fourth film to date, hit theaters over last weekend. Regardless of its Oscar fate in the writing, directing and acting categories, the film seems poised to be a major player in the craft arenas, our central focus here at Tech Support.
I recently spoke to cinematographer Roger Deakins, production designer Kristi Zea, costume designer Albert Wolsky and film editor Tariq Anwar about their work on the film, a 1950s period piece featuring the on-screen reunion of Leonardo DiCaprio and Kate Winslet. All four artists are veterans, having had long (Deakins is the youngest at age 59) and successful (each has been nominated for an Oscar at least once, with Wolsky earning two statues to date) careers.
Each of the respective department heads commented on Mendes's tendency to balance a well-defined vision with the necessity of cooperative discovery on the set. Deakins previously worked with Mendes on "Jarhead," stepping into the shoes of late legend Conrad L. Hall, who lensed Mendes's first two efforts. "He's not happy until he gets what he wants," he says of the director, "but he has an enormous respect for the collaborative process."
Zea, meanwhile, says Mendes has a great "willingness and affection for collaboration, but has a precise vision and, because of that, the movie, in its entirety, is very controlled."
Anwar received an Oscar nomination in 1999 for his work on Mendes's "American Beauty." This year marks their own reunion. He agrees with Zea's reflection of the director's balance of his own preparation and the input of his collaborators.
"In spite of being so sure-footed in his approach to film production, there is never a feeling of being excluded from the creative process," he says, "or a sense that his material is too precious not to be rearranged or even deleted."
All below-the-line crew members "sat down and went over the entire script so that the director could see where his crafts artists saw it going," Wolsky adds. The costume head teamed up with Mendes on "Road to Perdition" in 2002 (and also received an Oscar nomination). He says he feels a special bond with the director considering that they both come from the theater.
"Road" was unusual in that it was largely filmed in one location, the home of DiCaprio and Winslet's Wheeler couple. Zea says that finding an appropriate house was the most challenging aspect of her role on the production.
"We needed the house to have a certain look and it also needed to be next to a specific type of house as they needed to have a good relationship with each other," she recalls. Given that the film did not have the budget to fund drastic changes to the location once it was discovered, and Mendes was determined to have a two-story home with a long central staircase (many of the houses of the era were split-levels), the task was especially pivotal.
"Once we found it, there were many issues of how to work around it," Deakins says. "We had to rewire the house in a way to get all the lighting I wanted it as we had virtually no natural light." In fact, Deakins installed a new window in the home to suit those lighting needs. And because of the reliance on a single set, he notes that inconsistencies can be a real hindrance.
Being a period piece, with all the challenges that come with that, it is somewhat surprising that each of the artists downplay the importance of that fact in their approach to the work. Zea rightly mentions that, ideally, there should be no difference between her approach to a period movie and a contemporary one. "The idea of shooting a film in period should have some influence on the choices that you make," she says, "but more important than that is the need to serve the story."
Wolsky agrees, adding that "if you read a script and if it's in the 1950s, then that's where the research will lead you. But research is still required for a contemporary film."
However, Wolsky says that, if given the choice, he prefers period films to those set in the here and now. "Contemporary is very hard because people wear everything these days," he says. "Actors often have discomfort wearing clothes in contemporary films they would never wear in real life; they lose some of that in period."
Deakins says the period nature of "Road" did not affect his approach to photography at all. He does admit that on a film such as "The Assassination of Jesse James by the Coward Robert Ford," Andrew Dominik's critically acclaimed western from last year, he was trying to evoke a period with the camera. Certain stylistic choices were necessary. But dramatic character studies, he says "are much more contained. Visuals are only there in service of the actors. You're not creating the poetic landscape and should not change an approach because of the time period."
Tech Support makes it a point of highlighting the work of crafts artists, work that tends to go unnoticed by the media at large. With that in mind, I couldn't help asking a crew such as this whether they've ever felt the temptation to choose projects that will showcase their work.
Deakins says that's not necessarily the case, but he admits he will almost always work with directors such as Mendes or the Coen brothers, artists who give him the opportunity to offer up dynamic photography. "I don't look for the opportunity to have showy cinematography," he stresses. "I look for projects with good scripts, actors and directors attached."
Similarly, Wolsky adds that he always considers himself to be at the service of the director and the script. "It's the director's project," he says, before fondly recalling the first film as costume head, 1968's "The Heart is a Lonely Hunter."
"I was working with legendary cinematographer James Wong Howe," he says, "and I watched him working as though it was his first movie. I always try to bring that fresh approach to my work, to be at the service of the story and not my ego."
Anwar says there have certainly been scenes in movies he has done, such as "American Beauty," where the editing could perhaps be described as showy. "But I adhere to the belief that it's best not to be aware of the editing and that it should be as unobtrusive as possible," he says, noting that he has fundamentally chosen to work on more small-scale dramatic pieces.
For the incredibly important role these artists play on their films, however, the fact remains that they rarely receive the credit of directors, writers and actors. Wolsky admits he knows a lot of costume designers feel they are not appreciated. He acknowledges that some of the people he works with don't care about the costumes and he finds that frustrating. But that is kind of the point, he says.
"What is important for me is not to get the appreciation a movie star or director gets," he says. "More important for me is to do a job I care deeply about. Then I'm happy."
Deakins, who has accumulated more Oscar nominations than any other working cinematographer, is quick to say that he never feels underappreciated, despite the lack of notoriety he receives compared to above-the-line talent. "If anything, I feel I'm over-appreciated," he says. "I'm amazed I get to work with such great actors and directors. I feel so lucky to get to do what I do, and that's not bullshit."
At the end of the day, however, all four emphasize the importance of working as a team with other members of the crew in order to crank out the best possible product. Anwar calls the process "a continuing dialogue," but Wolsky chooses a simpler, and perhaps truer tome:
"You can't work by yourself."