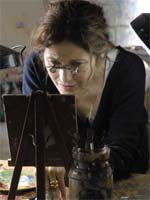 It's a lovely thing when you realize, at least part of the way through adulthood, that we still possess the ability to surprise ourselves. When left to graze at leisure, the mind can stumble upon some unexpected notions, frequently overriding the conclusions we thought we had reached after twelve months of watching, writing and (occasionally over-) thinking. And more often than not, it knows best.
This is what I discovered when I sat myself down on a poolside lounger in the remote hills of Portugal's Algarve region and set about finalizing this list, which had been eating away at me for the better part of the last six weeks. After various tortured drafts drawn from my scrappy 2008 diaries, notebooks and In Contention entries — none of which looked sufficiently reflective or, frankly, right to me — I decided to dispense with notes entirely and start from scratch, using my memory as my sole resource.
And so it was that when I asked myself, "What's the best film you saw in 2008," the answer that came was not only amazingly swift, immediately satisfying and ultimately inarguable, but it was not the answer I expected to receive. Of course, I knew the film would crop up somewhere prominent in the list — the mind is a filter, after all, not a magician's hat — but it was one of several films this year (and indeed, on this list) that I would call "growers."  You see them, you like them, but it takes a few weeks, months even, of rumination and interpretation before you realize just how much you love them.
It's something that should be borne in mind when it comes to awards voting, which work on a "survival of the fittest" basis: some films simply take longer than others to make a collective (or selective) impact. This may rule them out of competition time frames, but it doesn't make them lesser achievements. Similarly, certain films that seem like huge, important deals at the time can leave us scratching our heads when removed from the flurry of the season. In a perfect world, Oscar voting would take place a year or two (or 10) after the release of the year-end glut — but it was ever thus.
One perception of mine that hasn't changed through the compilation of this list, however, is that it's been a year of bijou pleasures. As one talked-up Hollywood title after the other disappointed, dissipated or dared to be merely "good," the films left standing for me were mostly on the intimate side: small but beautifully formed works bound by character rather than concept, often asking penetrating questions about society, family and the nature of the individual. As the Americans, by and large, treaded water, European cinema soared, with France enjoying a particularly golden streak — the likes of which we haven't seen in well over a decade.
I may have complained often in these pages that it's been a "bad year" for film, but as I look down the list of 20 titles that I finally arrived at, covering as it does a pretty rich variety of moods and forms, it now seems graceless to say so. When Hollywood flickers, different voices emerge, and for that we should be grateful. Perhaps it hasn't been a bad year…just a smaller one.
THE ALSO-RANS
An "honorable mentions" list, if you will, though that term always sounds needlessly condescending to me. These are seven films (alphabetically listed) that delighted me over the year, either in part or in their entirety; all have certain flaws preventing them from making the final grade, though in some cases that adds more character than it takes away.
"AUSTRALIA"
Alternately soaring and silly, delicate and dunder-headed, Baz Luhrmann's beautiful throwback won me over by embracing its own folly as a challenge to be met.
"A CHRISTMAS TALE"
At first sight, it appears to be as gaudy and haphazard as the celebration it depicts, until the stylistic and narrative chaos settles into something dark, precise and deeply moving.
"THE DARK KNIGHT"
It lacks the moody elegance of its predecessor, and suffers from some baggy storytelling, but several unrivaled set pieces (and one knife-edge performance) make this a landmark.
"FROZEN RIVER"
Few films this year made quite such an integral, imposing character of their landscape as Courtney Hunt's steel-edged debut, but Melissa Leo's tremendous performance still stood out.
"SUMMER HOURS"
As tart, crisp and easy to consume as a good Chardonnay, Olivier Assayas' simple, lyrical family comedy was a breezy, welcome change of pace for the frequently over-reaching auteur.
"THREE BLIND MICE"
Sadly under-appreciated in its home country, this daring, hilarious study of masculinity in crisis marked actor-writer-director Matthew Newton as the year's most impressive hyphenate.
"VICKY CRISTINA BARCELONA"
Even for a die-hard Woody Allen defender like me, this came as a delicious surprise, as multiple themes from his oeuvre melted into something looser and funkier in the Spanish sun.
THE ALMOST-THERES
I've separated these three titles because they came this close to my final ten: all of them made the cut in one draft of the list or another, and indeed, may have made this one on a different day or a different whim. It pains me to leave them out, but a "Top 13" sounds messy, not to mention unlucky.
"IL DIVO"
The most adventurous biopic of the year, and a blazing triumph of political filmmaking — witty, angry and kitted with a vertigo-inducing arsenal of cinematic tricks and tools. If Oliver Stone really wants to get his groove back, he could start by watching this.
"SLUMDOG MILLIONAIRE"
As so often happens, the breathless awards-oriented marketing has made this dizzying, defiantly eccentric cinematic hodgepodge sound less interesting than it really is — it's less a "triumph of the spirit" tale than a jagged, fantastical meditation on the nature of fate.
"THE WRESTLER"
Frankly, this could be a B-grade potboiler and it would still merit inclusion for Mickey Rourke's colossal, destined-to-be-iconic performance alone. That it's also a perceptive, tightly focused character study with knockout support from Marisa Tomei is just gravy.
THE 10
Okay, enough with the foreplay. Listed in ascending order, after painstaking consideration, these, in my humble (and pliable) opinion, are the 10 best films of 2008. To be honest, I could draw a dividing line exactly halfway through. At this stage, I count five masterpieces here, with the lower five coming damn close — but as I've said, time can change all that.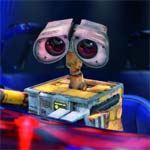 10. "WALL-E" (Andrew Stanton)
It's dispiriting to realize that the most completely realized American blockbuster of the year was, well, less than completely realized, but to be fair, "WALL-E" only falls slightly short in its second half because its first 45 minutes set such a high, near-unparalleled standard of technical wonder and ideological investigation. The merits of the film have been extensively debated on these pages, but I must return to the rapturous gut reaction I experienced on first viewing: no other film this year made me say "wow" out loud. The result is the first Pixar film I've ever wholeheartedly loved. (I know…I'm clearly dead inside.)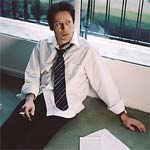 9. "HEARTBEAT DETECTOR" (Nicolas Klotz)
I am willing to bet a substantial amount that most of you reading this list have not seen this astonishing corporate thriller. It's hardly your fault; I believe it played at a paltry two theaters in New York before vanishing from view. Either way, it's an oversight you need to rectify on DVD. Described by many a critic as "'Michael Clayton' on acid," a description that makes it sound a good deal more glib and less beautiful than it really is, it's a Haneke-cool deconstruction of office ethics and politics centered on the mental unraveling of a business in-house psychologist — yet another star turn from the extraordinary Mathieu Amalric.
8. "IN BRUGES" (Martin McDonagh)
I'm happy to say that my pick of 2008 at the mid-way point remains one of the year's finest, and most surprising, efforts. No other film on the list inspired such low expectations from me before viewing it, but celebrated Irish playwright Martin McDonagh has kick-started the played-out Brit gangster genre with a dose of existential neurosis, refreshingly languid pacing and ream upon ream of rapid-fire, ferociously literary dialogue that credits its audience with as much intelligence as its audience. Anchored by a quick-witted lead turn from Colin Farrell that reminded why we liked him in the first place, this was the year's most effortlessly enjoyable film.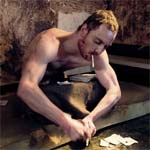 7. "HUNGER" (Steve McQueen)
Another staggering British debut, albeit one of a very different hue, this sensual, richly textured impression (biopic is hardly the word) of Irish hunger striker Bobby Sands's demise inspired an overuse of the word "harrowing" among critics, but that was largely because its profoundly upsetting emotional impact was so hard to articulate. The film's distinctive visual sensibility (in a just world, Best Cinematography would be in the bag for Sean Bobbitt) betrays McQueen's gallery-art roots, but it is ultimately for a simple, single 17-minute two-shot of one riveting conversation that the film will be most remembered.  This is a film in which both words and bodies are means of warfare.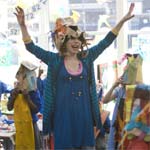 6. "HAPPY-GO-LUCKY" (Mike Leigh)
You're probably sick of hearing me bang on about this cleverly conducted comedy of manners, but the fact is I've had more arguments with fellow film lovers about this picture than any other this year — a clear sign, to me at least, that Mike Leigh has once more succeeded in picking apart the frailly woven fabric of the British middle-classes. A return of sorts to the gentle-yet-savage everyday observation of "High Hopes" and "Life is Sweet," it plays as a Pollyanna tale only to those too careless to observe the deep social insecurity at its core: in what is the year's most complexly assembled performance, Sally Hawkins's Poppy brilliantly rejects and reflects the malaise that surrounds her. (My review)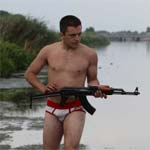 5. "GOMORRAH" (Matteo Garrone)
Adapting journalist Roberto Saviano's vast, infinitesimally detailed chronicle of Naples's notorious Camorra crime syndicate was certainly one of the year's tallest orders.  But Garrone and a bevy screenwriters (including Saviano himself) more than met the challenge by filleting a selection of narratives both personal and symbolic in scope, interweaving them with thrilling nous and dexterity, and finally, handling the potentially unwieldy juggernaut with a level of patience and compassion that recalled Roberto Rossellini's studies of post-WWII Italy. Combining the sweep of an epic with the urgency of the finest social realism, this stands as a unique achievement in the gangster-film pantheon. (My review)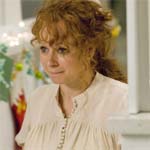 4. "SYNECDOCHE, NEW YORK" (Charlie Kaufman)
Charlie Kaufman's voice has become such a distinctive and justly celebrated fixture in American cinema over the past decade that it's difficult to think of this massive work, a veritable culmination of all the man's writerly preoccupations and insecurities, as a debut feature. And yet it is so, and a revelatory one at that. Nobody should be surprised by the film's narrative density, nor its audacious structural ellipses, but Kaufman's exquisite imagery, and his deft handling of the year's most dazzling ensemble, betray the arrival of a major directorial talent. Years from now, people will be wondering why they weren't paying more attention.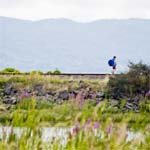 3. "WENDY AND LUCY" (Kelly Reichardt)
In an uncharacteristically strong year for female directors, Reichardt came up trumps with this deceptively simple elegy for American rugged individualism. A quantum leap from her previous effort, the beautiful but faintly precious "Old Joy," the director here found a human presence strong and charismatic enough to fill out her bare-bones narrative: the incandescent Michelle Williams. Ostensibly an anecdote about a girl and her dog, Reichardt and Williams uncover depths of humanity and empathy in the material that elevate it to a story of social and personal transience and hope; the denouement ranks as the year's most heartbreaking. (My review)
2. "I'VE LOVED YOU SO LONG" (Philippe Claudel)
Unfairly dismissed in some quarters as a mere performance showcase for the admittedly monumental, career-crowning work of the great Kristin Scott Thomas, Claudel's debut is in fact a decidedly complex narrative feat, built on an intricately organized system of secrets and revelations that initially cast the film as an unusual domestic thriller, until a final-act coup brings an even greater emotional immediacy. Claudel's novelist's eye and ear is evident in his elegant evaluation of human gesture and behavior, while devastating supporting work from Elsa Zylberstein and Frederic Pierrot ensure this is no one-woman show. A triumph of quiet confidence. (My review)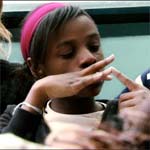 1. "THE CLASS" (Laurent Cantet)
Well, I did say it was a good year for the French. For the second year running, the Cannes Palme d'Or victor proved more than worthy of the title, as Cantet bounced back from the curious diversion of "Heading South" to make a boundary-defying social document, impossibly rich in its scope, compassion and obsession with the limitless possibilities of language and conversation. A docudrama mapping the trials of real-life teacher Francois Begaudeau over the course of one year in a rough Paris high school, work shopped and performed by actual students, any concerns of gimmickry or over-earnestness dissipate as the film's searing insight and joyful wit carry the viewer through an all-too-brief 130 minutes. An incontrovertible masterwork. (My review)
… AND THE WORST
I don't pretend for a minute that these truly are the worst films of the year. Until someone actually pays me to be a critic, I see no need to subject myself to the bereft-of-hope likes of "The Love Guru" or "88 Minutes." For that level of perspective and self-punishment, I point you to John's far more well-informed take here.
So, bearing in mind that I never enter the cinema without any expectations whatsoever, these were the five films that most let me down in 2008. Some were more disappointing than others, if only because they had a greater height from which to fall — all, I think, are unequivocally dreadful.
5. "GRAN TORINO"
The clunky construction and thematic naïvete would have been embarrassing coming from George P. Cosmatos — from Clint Eastwood, it's confounding.
4. "INDIANA JONES AND THE KINGDOM OF THE CRYSTAL SKULL"
I'd say it's worth watching for Cate Blanchett's gleeful scenery-chewing, but "Elizabeth: The Golden Age" was better camp, and a better movie.
3. "ELEGY"
In which Isabel Coixet demonstrates a staggering failure to grasp Philip Roth's gender politics, not to mention human relationships in general.
2. "ROCKNROLLA"
Well, it's better than "Revolver." Take that as a recommendation at your own risk. (My review)
1. "THE OTHER MAN"
The idea that Laura Linney, Liam Neeson and the director of the stunning "Notes on a Scandal" could join forces to make the year's most inept drama is ludicrous, but then, so is the film.
So, that was the year that was. The Academy will no doubt disagree with me. They will be wrong, but then I would say that, wouldn't I? If you still want to weigh in after Kris and John's lists, have your say below.