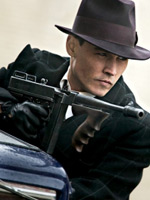 No explanations, just my annual unfiltered, edge-of-my-seat anticipations.  My tastes tend to skew entertainment from afar; I don't look forward to the Oscar stuff until later in the year, when the pieces of that crazy puzzle are slowly revealed.
Here's what I'm looking forward to:
1. "Watchmen" (Zack Snyder, Warner Bros. Pictures, March 6)
2. "Public Enemies" (Michael Mann, Universal Pictures, July 1)
3. "Avatar" (James Cameron, 20th Century Fox, Dec. 18)
4. "A Christmas Carol" (Robert Zemeckis, Walt Disney Pictures, Nov. 5)
5. "Terminator Salvation" (McG, Warner Bros. Pictures, May 22)
6. "Shutter Island" (Martin Scorsese, Warner Bros. Pictures, Oct. 2)
7. "Green Zone" (Paul Greengrass, Universal Pictures, TBA)
8. "X-Men Origins: Wolverine" (Gavin Hood, 20th Century Fox, May 1)
9. "State of Play" (Kevin Macdonald, Universal Pictures, April 17)
10. "2012" (Roland Emmerich, Columbia Pictures, July 10)
Least anticipated: "Inglorious Bastards"
You?