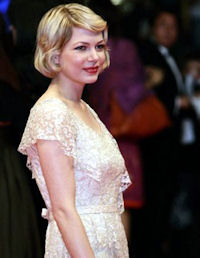 Fate can have a bittersweet sense of timing, and Michelle Williams understands this better than most. A 2008 that started bleakly with the passing of Heath Ledger, her former partner and the father of her daughter, has ended as a professional banner year for the 28 year-old actress.
A triptych of startling performances in a disparate array of projects — Sharon Maguire's "Incendiary," Charlie Kaufman's "Synecdoche, New York," and, most prominently, Kelly Reichardt's "Wendy and Lucy" — have made this the year Williams consolidated the Oscar-nominated promise she demonstrated as a member of strong indie ensembles in the likes of "Brokeback Mountain" and "The Station Agent," and emerged as a great, free-standing actor in her own right.
Further accolades have rolled in, with her tricky, film-carrying performance in "Wendy and Lucy" earning her an Independent Spirit nod and a Best Actress award from the Toronto critics, while in the background, her late ex remains the year's most talked-about thespian. When she sighs wistfully over the phone from New York and says that it's been "a weird year," that barely seems to cover it.
It's another curious reversal that the film largely responsible for making this such a big year for Williams truthfully couldn't be any smaller. "Wendy and Lucy" is a brilliant, elegiac piece of Americana that easily ranks among the year's finest films. The story of a young, broke drifter, Wendy, whose already fragile existence collapses when she is separated from her best friend Lucy, a yellow-gold mongrel, it inauspiciously came her way as a short story ("Train Choir," by co-scripter Jon Raymond) with a brief note attached — the lean script still uncompleted.
"Todd Haynes recommended it to me," she says, referring to the iconoclastic auteur who directed her in last year's "I'm Not There." "He's a mutual friend of mine and Kelly's, and he thought we'd be a good fit. So I read it — I mean, I'd be stupid not to trust the judgment of someone like Todd."
At the time, Williams hadn't seen Reichardt's previous film, "Old Joy," a gentle, much-lauded study of contemporary masculinity in limbo told in spare, silent strokes. Once she did, however, the actress was immediately intrigued to work with the famously minimalist director. "I loved that the storytelling was so fluid, but there was something enigmatic about the people inside it, something I couldn't pin down. It was like catching a firefly in a bottle; I wanted to do something that … slippery."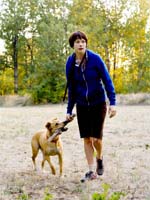 Williams discovered a similarly oblique allure in Raymond's story that drew her to the project without need for a script. "I'm glad I got to read it as a story first," she says, "because I got all these beautifully descriptive sentences lingering in my head, which really helped me see the spaces and silences of the movie. There was one phrase that really grabbed me — something like 'She sees the reflection of the moon in an ant's eye' — which gave me something lyrical to hold on to."
Wendy's elusiveness as a character took the actress by surprise at first, though she soon came to see this as an opportunity rather than a void. "Wendy never reveals herself by what she says, and that really interested me," she explains. "I kept thinking I'd missed a scene with some exposition, some kind of backstory that explains why she is the way she is. Then I realized I had to fill that all in with just her voice and her body language. That was a great challenge."
Williams was also drawn to playing a character she describes as existing "outside of femininity" — indeed, the beautiful, fresh-faced actress is barely recognizable beneath a dingy brown cropand, more significantly, a wounded, slope-shouldered demeanor that betrays a long-held desire to hide from the outside world. "What do you look like when no one can see you?" Williams asks. "That's one of the questions I wanted to explore with Wendy."
Though she describes the film as a story of "the loneliness of the decision-making process," and how it weighs on a woman who "won't see the big picture, because she'll break down if she does," Williams credits her director with pointing her towards a different viewpoint: "It was Kelly who told me, look, she's not alone. Wendy has a very deep connection with Lucy that's as deep and communicative as any human relationship."
With that in mind, did the actress (not a dog-owner herself) forge a bond with her canine co-star? "I admit I was nervous," she laughs. "Dogs are like kids: they make a snap initial judgment of you, and don't change it. But I think we got to know each other pretty well."
Interestingly, Williams' only doubts over the project lay in whether her own casting was in the film's best interests. "I was worried I might be too well-known," she says. "They already had the money in place; they didn't need a 'name' to get the movie made. And I thought, they should really get an unknown to play the part, someone the audience can follow with no preconceptions. I thought that might be better for the movie." Fortunately for her, and us, Reichardt persuaded her she could disappear sufficiently into the role for her celebrity not to be an issue.
For an actress most accustomed to ensemble work, both "Wendy and Lucy" and "Incendiary" mark Williams' first foray into leading-lady territory. She admits to finding the transition a little daunting, not least on the latter film, a film with a potent emotional charge — it charts the grieving process of a London woman whose husband and son are killed in a terrorist attack — that hit a nerve with the young mother. "'Incendiary' was exhausting," she says. "We were filming 13-14 hours a day, and by the end, I had nothing left. I'd just collapse."
As much as Williams finds comfort in the "protection mechanism" of ensemble pieces, she enjoys the liberty a lead role affords her, particularly in an indie project: "In some ways, it's easier to make a film like "Wendy and Lucy" because there's more room to be yourself, to experiment, to throw things out there."
She also offers this as the reason why she gravitates toward independent film, though she's quick to acknowledge interesting work done within the mainstream, citing David Fincher as someone she'd like to work with in this regard. Moreover, in explaining her affinity for left-of-center work, she doesn't mind pointing to the TV show that made her name ten years ago.
"Yeah, "Dawson's Creek" made me into a little rebel," she says with a hint of self-irony, referring to the hit teen series that also made Katie Holmes a household name, in which Williams played the promiscuous but terminally insecure Jen Lindley. Although grateful for the experience, the teenaged Williams felt hemmed in by the show, until an off-Broadway stint in "Killer Joe" by Tracy Letts (now of "August: Osage County" fame), in which she controversially bared all onstage, opened a door for her.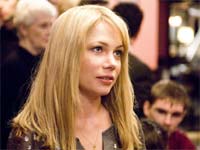 "I was young, and I felt kind of embarrassed by "Dawson's Creek" at the time, so I guess I took a stroppy pride in doing something weightier," she confesses. "But now, with some perspective, I realize how much that show meant to a whole generation of kids. I feel quite happy to have been involved with that."
In assessing how far she's come, Williams recalls a memory from the set of "Synecdoche, New York," in which she plays a beautiful, naive and only marginally talented young actress way out of her depth in a revisionist production of "Death of a Salesman."
"I remember when we were shooting the play-within-the-movie, I looked up and there were Phil (Seymour Hoffman), Catherine Keener and Jennifer Jason Leigh — like, three of the actors I most admire in the world — all watching me. And I had to perform in front of them as this bad, miscast actress… it was literally the stuff of my nightmares." She laughs again. Thankfully, the experience of filming "Synecdoche" was anything but nightmarish — Williams lavishes praise on Charlie Kaufman, describing him as a man "who can do anything for an actor."
Of course, given the run of form she's had recently, one could just as easily say Williams is becoming an actress who can do anything for a director. At such a young age, she's carved a happy niche for herself, flitting blithely between indie and mainstream, lead and ensemble, and admits she's more than glad to continue the pattern. A look at her 2009 slate confirms this: Martin Scorsese's much-anticipated "Shutter Island" and Swedish auteur Lukas Moodysson's "Mammoth" are very different, but equally mouthwatering, prospects.
Right now, however, she's looking forward to some time off, confessing to feeling "drained" by the past year, though she's still thinking ahead to future projects. "I'd love to do something a bit more light-hearted, but not inane," she says, before closing the interview with a statement that hints at the vulnerability she etches so exquisitely on screen. "It's so difficult to be an adult, and know which decisions to make."