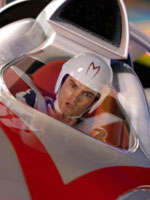 As always, this list was no trouble to write.  There is always an abundance of bad films in a given year.  I tend to go for the films that should have been stronger, that had a good director or fine actors, but still came out smelling like sewage.  There's no excuse for that.
1. "88 MINUTES"
It only felt like 88 weeks.
2. "10,000 BC"
What really needs to be said?
3. "THE LOVE GURU"
And again…is there anything I can say?
4. "THE HAPPENING"
Shyamalan continues to disappoint.
5. "SEX AND THE CITY"
Great looking girls with money bitching about their poor lives…awwww.
6. "MIRACLE AT ST. ANNA"
Spike Lee's war epic, horribly acted by a central character with an annoying child…stupid and boring. Worse, Lee's own racism was never more evident.
7. "THE OTHER BOLEYN GIRL"
Just bloody awful.
8. "MEET DAVE"
More from Eddie Murphy as his career spins round and round the toilet bowl.
9. "SPEED RACER"
???
10. "BANGKOK DANGEROUS"
Cage can act…so why doesn't he??
(Check out my list of the year's best here.)