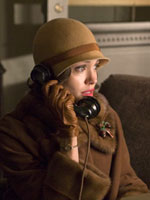 It's no secret that I don't expect 2008 to be remembered as a banner year for cinema, though with that said, there are plenty of exceptional films to be remembered.
Perhaps 2007 spoiled us and got our hopes up and 2008 brought far too many let downs and disappointments from great filmmakers. Usually when I sit down to write up the year's best, the first short list stands at around 30, perhaps 35 films that range from very good to great. This year I was at less than 20, and in some cases, I was probably stretching to allow space for this or that.
But I got it down to 10, so here they are…
10. "VICKY CRISTINA BARCELONA"
This film was not vintage Woody Allen, as he has grown so much as a director for anything new from him to be considered a throw-back, but it is certainly refreshing Allen.  Sexy and sleek, this film is part of the newest stage in the director's career, moving away from the comfort and familiarity of New York to an exotic locale with Americans mixing it up and getting into all sorts of bizarre situations.  Penélope Cruz all but burns a hole in the screen with her sensuality in this film, which is terrifying because she just might be psychotic.  Welcome back Woody…we've missed you.
9. "SLUMDOG MILLIONAIRE"
Danny Boyle's latest was another Toronto Film Festival find that exploded out of the gate to become one of the best films of the year, the critics' darling and a shoo-in for a Best Picture nomination from the Academy.  Boyle uses an array of color, sound and images to create a startling view of the world inhabited by a young man who has seen his share of horrors in his life.  He finds opprtunity on a popular game show, a chance to turn his life around.  The film is amodern day fairy tale full of hope and dreams and the belief in what might be possible. I do not share the belief that this is the best of the year, but it is without question a part of the list.
8. "FROST/NIXON"
Earlier this year I wrote a piece asking if Ron Howard had the edge to make this film work.  Did he possess the courage to present former U.S. President Richard Nixon with absolute honesty or would he candy coat the story as to not offend?  I was thrilled when the director made a brilliant film out of the Peter Morgan play with powerhouse acting from Frank Langella and Michael Sheen. With dialogue-driven films, the performances must crackle and crackle they do throughout this one, with the edge going to Langella as Nixon, slowly dancing with David Frost until finally dropping his guard in front of the American people. This is Howard's best work since "The Missing."  Only "Apollo 13" stands above it in his catalog to date.
7. "CHANGELING"
A great film is a great film is a great film, so I cannot understand why so many American critics lashed out at this work when it was released in October.  Or were they perhaps lashing out at its director, Clint Eastwood, believing he had enjoyed too much success in the years previous?  "Changeling" is a great film, beautifully acted and directed, telling a frightening tale of corruption and the abuse of power and the manner in which one woman driven by the anguish of losing a son fought back just to be heard. Angelina Jolie is better than she has ever been in the lead role and John Malkovich is equally superb as a preacher who believes her and comes to her aid. Don't listen to the nay-sayers — this was a great film.
6. "CHE"
I saw the four-and-a-half-hour cut of Steven Soderbergh's latest at the Toronto International Film Festival and watched it again recently on DVD.  I believe with every fiber of my being that this is a great film. Yes, there are detractors, but I believe they are wrong, plain and simple. This is a demanding work, with no great climax to its slow-moving narrative, unfolding with great patience and detail just like life itself.  Benicio Del Toro is a revelation as Che Guevera, slipping under the skin of the character to become him. He masks from his men a quiet fury, a smoldering intensity borne of an intelligence, of truly understanding what they are fighting for.  Soderbergh has given us an extraordinary achievement, bold and daring, as far from manistream cinema as we can get, yet compelling and altogether brilliant.
5. "REVOLUTIONARY ROAD"
Years ago, Hector Babenco's "Ironweed" polarized audiences and critics because, on one hand, it was a relentlessly bleak story with no hope.  But it was performed with utter genius by Jack Nicholson and Meryl Streep. To this day people are not sure what to make of it. Will that happen Sam Mendes's brilliant Richard Yates adaptation? Yes it is bleak and full of marital despair and pain, but it is so beautifully acted by Leonardo DiCaprio and Kate Winslet, who give themselves over to their roles. The raw pain of their existence is etched in their faces as these two great actors go toe-to-toe, delivering superlative work backed by the eerie Michael Shannon and Kathy Bates. Sam Mendes again displays remarkable gifts with actors.
4. "THE WRESTLER"
Indeed this film marks the return of Mickey Rourke, but it is something much more, a merging of actor with role that allows an artist to explore his demons before our eyes. Once considered one of the greatest actors of his generation, Rourke blew it, destroying a promising career. He's back here as Randy "The Ram," an over-the-hill wrestler making ends meet working odd jobs and wrestling long after his body has told him to quit. Marisa Tomei is outstanding as his stripper friend in this marvelous, gritty little film from the great Darren Aronofsky.
3. "MILK"
In Gus Van Sant's best film in years, Sean Penn delivers the finest lead performance of the year as Harvey Milk, the first openly gay official elected to office in the United States, only to be assassinated in the late 1970s. Penn is astonishing, filling the screen with warmth and love, exuding goodness and faith in his fellow man and humanity. Yep, that Sean Penn. He is surrounded by a long list of terrific supporting performers including James Franco, Josh Brolin and Emile Hirsch in this, an American masterpiece.
2. "THE CURIOUS CASE OF BENJAMIN BUTTON"
David Fincher nails it with a haunting romance that is also a splendid fantasy film, a stunning character study of a man born aged and growing younger with each passing year. Brad Pitt gives a superlative performance, matched step-for-step by Cate Blanchett in one of the screen's great romances.  It's a knockout that may in time edge out my number one choice for the top spot this year, but not yet.
1. "THE DARK KNIGHT"
I never thought a Batman film would sit at the top of this list, but Christopher Nolan turned comic book fantasy and wild entertainment into art this year with this superb film, one that I truly hope cracks the Academy's Best Picture category.  Heath Ledger gave a performance for the ages, truly one of the greatest film performances ever, and Christian Bale continues to grow, emerging as, hands down, the best Batman ever. Gary Oldman gives the film its heart and soul, grounding it with a conscience, while Michael Caine is a delight as loyal butler Alfred Pennyworth, who often knows and understands Bruce Wayne better than the man does himself. The film grabs you by the throat at the beginning and never lets you out of its grasp. I loved it more the third and fourth times I saw it than I did last summer and no other film brought me such pure, giddy joy as this
Runners-up: "Doubt," "Gomorrah," "Iron Man," "Rachel Getting Married," "The Visitor," "W." and "WALL-E"
Best unreleased film of the year: "Lovely Still"
(Check back tomorrow for my list of the year's worst.)