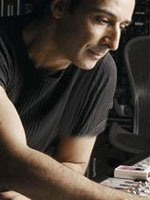 I'm a few weeks late getting to this.  The Hollywood Reporter just isn't one of my frequent visits anymore (sadly).  But the trade's annual Oscar Roundtable series is in full swing and the recent composers session makes for a fascinating read.
The composers who participated were Alexandre Desplat ("The Curious Case of Benjamin Button"), Danny Elfman ("Hellboy II," "Milk," "Standard Operating Procedure," "Wanted"), Jan A.P. Kaczmarek ("The Visitor"), A.R. Rahman ("Slumdog Millionaire") and Howard Shore ("Doubt").  Here's an excerpt that stood out to me:
Kaczmarek: Well there is this great era of composers that we always site, like Herrmann and (Erich) Korngold. But as much as I like bold strokes and the great scope of that era, it is, in a sense, useless today because we can't write that way. As much as I admire that craft, we are living in different times. There is a much more subtle language being used now.

Rahman: I am so much in love with scores that have great melodies, but nowadays if you have a great melody they say, "Oh, it's distracting from my film."

Shore: Film music is changing all the time. From year to year, the styles are changing, and frankly, they are all of interest. I find it an interesting, fascinating process seeing this art form evolve over a hundred years. I think this year is the 100th anniversary of film music. If you look at the history of it, and where we are in it, it's such a young art form steeped in music tradition. It started with classical music and then opera and then evolved into the great scores of the '30s, the experimentation of the '50s and '60s. It has just been an interesting process. Film music is a fascinating art form and there is still great work to be done. We have the benefit of all these great works of the past to build on, and there is a future ahead.

Desplat: The field is so wide open in front of us. That's why I like to create music for movies, because you can try anything.
Check out the rest here.
Meanwhile, over at Variety's Award Central (in full swing as well this season), various writers get some face time with the year's music branch hopefuls.  The section is kicked off by this Jon Burlingame feature on the music of "Australia."