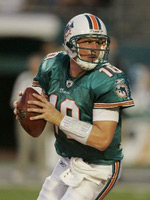 Obviously, my guys are out of the mix.  Thank you very much Atlanta.  But for those who've followed my quasi-coverage of the NFL season, I have a few hopes to toss out there for the final day of the regular season:
1) Shine down on Rod Marinelli.  It would be two birds with one stone for me if the Lions can come out on top of the Packers today, since I can't very well stand Aaron Rodgers and I don't really want to see any team (save maybe the Cowboys) go winless.  Plus, Marinelli could have clocked that ass-hat Detroit Free-Press reporter and no one would have held it against him, but he's a stand-up guy.  I hope they pull out a miracle.
2) Breathe some wind into the Eagles' wings.  The only thing better than rooting for the Skins in my world is rooting against the Cowboys.  Just call it good ole' fashioned bad blood rivalry.
3) End the "no one could've written it" Dolphins/Jets chapter with a Miami "W."  I don't hate the Jets or Brett Favre.  To the contrary.  But the Dolphins have always been my AFC favorite and they have a shot at true redemption this season.  I'd love to see both in the playoffs, but New York had their chances the last couple of weeks.  Chad Pennington deserves this one.
4) Win one for the Gipper, a.k.a., Jerry Richardson.  It's hard to grow up in North Carolina and not find yourself on the Panthers' side, and this year, they've played like champions.  The best belated Christmas present for their ailing owner (Richardson was placed on the heart donor list just weeks ago) would be a second seed berth and a rematch with the Giants in the conferance championship.  Let's start the road there with a victory over the Saints today.
5) Finally, speaking of the Saints, much as I love Drew Brees, let him fall short of Dan Marino's godlike single season yardage record.  It's bad enough that Favre stayed in the league long enough to chip away at all the others, but this one needs to stand.  The poor bastard never got a ring.  Leave him a little piece of history.
Now, back to Oscar talk…