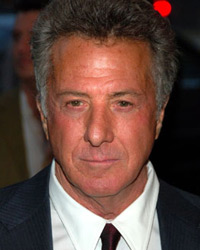 He doesn't seem like Dustin Hoffman for some reason.  He sounds like Dustin Hoffman.  He looks like him.  But there aren't really any traces of his decades-long assemblage of characters.  And he's got an approachability that seems somehow uncommon for a star of his stature.
But there he is, piecing together a sandwich with arugula, veggie cheese, spicy mustard and wheat bread as he recalls his first major interview with Studs Terkel over 40 years ago.  Terkel has passed recently, which brought the topic to the fore.
"It was Chicago, right after 'The Graduate,'" Hoffman says.  "I went into his office and he had floor-to-ceiling books and everything, you know.  The office looked like him.  He turns the tape recorder on and it was an intricate and intensive interview that probably went on for over two hours.  We shook hands and he said, 'Let me just check' — and the tape didn't work.  It had been blanked for some reason.  So he says, 'You wouldn't mind doing it again?"
So it was that we kicked off our own two-hour conversation, one steering in and out of his legendary career, briefly touching on the particulars of his latest film, "Last Chance Harvey" (now playing in limited release and for which Hoffman received a Golden Globe nomination for Best Actor), but mostly wandering from this mundane particular to that.
He has a fondness for iron furniture, a number of antiques peppering his Brentwood offices.  A large Italian "Midnight Cowboy" poster hangs in the lobby, but I'm caught off guard by the food and drink spread in the hallway as we move into his personal office.  The dainty dishes and cutlery seem to clash with the casual air of the actor before me.
Hoffman brings an almost comical sense of wonder to the idea that this interview will be featured on a blog, the short-hand of a term he only recently learned (web log).  He has an innocence about him concerning technology that almost seems a put-on, a great actor at work, trying to see what he can get away with.  He's gotten away with plenty before.
But ultimately you realize it's all genuine, this icon of the screen tucked away on the second floor of a West Los Angeles tower, hopping up every few minutes to ask one of his assistants for guidance with his BlackBerry or whether he's got a Facebook fan page.
"I'm very slow at getting to this," he says of the Internet and computers in general.  "As we get older we resist anything that's in its infancy because we know by the time it gets to its adulthood, we'll be dead.  It's like rap.  Big argument with my son 30 years ago.  I said, 'It's not gonna last.'"
"Something close to ourselves"
In his latest film, Hoffman stars as Harvey Shine, a commercial jingle composer emotionally (and physically) detached from his daughter and seemingly boxed out of the new family his ex-wife has long since established.
With his offspring set to wed across the pond in London, Harvey makes a meaningful connection with a lonely airport employee (Emma Thompson), one that might breathe new wind into his sails.  It's the sort of narrative that would be trite in the hands of lesser actors, but Hoffman and Thompson bring it to life by adding a lot of themselves to the characters.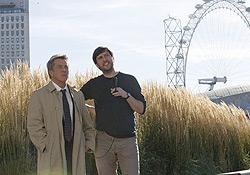 As it turns out — or as director Joel Hopkins told Hoffman, who says he can't be sure — "Last Chance Harvey" was written with both stars in mind.  The two had only shared the screen twice before, a pair of scenes in Marc Forster's "Stranger Than Fiction" in 2006.  But when they didn't get the proper opportunity to spar together in that film, Hoffman says they began looking for something fuller, something Hoffman says he'd actually hoped to do ever since Thompson struck a chord with him three years prior in Richard Curtis's "Love Actually."
"There's a scene where she finds out she's being cheated on and I thought it was one of the rawest scenes I've ever seen an actor do," he says.  "I thought it was so powerful and non-acted, in a sense.  I said, 'We should try to do something like that, where we're playing something that close to ourselves, be that personal, to the point that it's almost autobiographical.'"
It seems of a piece with Hoffman's work ethic, a true student of The Method and a key figure in a generation of actors (Duvall, Hackman, Pacino, etc.) that looked up to Marlon Brando, who "tilted of the axis of acting," as Hoffman puts it.  With that in mind, it's impossible not to stroll down memory lane with the actor if given the opportunity.
As discussion moves to the Internet's undercutting of traditional media and the general state of flux journalism finds itself in today, Alan J. Pakula's "All the President's Men" suddenly makes a delightful conversation piece.  Hoffman, of course, starred opposite Robert Redford in the 1976 film, a dramatic account of Bob Woodward and Carl Bernstein's triumphant investigation of the Watergate scandal at The Washington Post.
"Redford had a kind of brilliant notion," Hoffman says, reflecting on the experience.  "It was his project, he produced it.  He said to me at one point, 'You know, we should not only learn our own lines we should learn each other's lines.  We spend so much time interviewing people and the actors know the words, they know this is my line, this is your line, but if you jump in and say, 'Hi I'm Carl' and I finish your last name and then I ask the question, or you ask half the question and I ask the other half, it's going to really throw the actors, and it might be very good.'  And that's what we did."
"If it's a job it's already questionable."
Regarding film criticism, which also finds itself in flux as of late, Hoffman says he has "strong feelings" on the matter.  "There's no job description," he says.  "You see someone's suddenly a new critic, and you say, 'Oh, I know that name.'  Yeah, he was a food critic.  So the newspaper moved him up from food critic to film critic, which is fine, because everybody is a critic.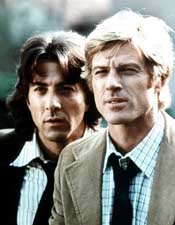 "But there are other people who know film, who really understand it, maybe even on the level Scorsese does.  I name him because he's probably seen as much or more film than anyone I'm aware of, is sensitive to film deterioration, etc.  And the fact that these critics see so many films, I don't know, if it's a job it's already questionable.  And I do think that films are meant to see with audiences, and they don't do that.  There has to be some self-consciousness, I think."
In fact, Hoffman says filmmakers should serve as film critics, or at the very least, he seems to think the critical fraternity should be more steeped in the process than they are.  The line of thinking brings him to legendary critic Pauline Kael, who famously took umbrage with much of the actor's work throughout his career, "which is fair," he says.
But after researching his role as an autistic man in Barry Levinson's "Rain Man" 20 years ago, the actor was quite surprised to open Kael's review and see that she kicked off the analysis by questioning the accuracy of the disease's portrayal.
"I got so many letters from specialists in the field and from parents that had autistic children," Hoffman says, matter-of-factly.  "That's all I wanted to do with that part was make it accurate and have those people say, 'Yes.'  I want journalists to say, 'Yes, you got it right,' when it comes to 'President's Men.'  I want convicts to say, 'Yes, you got it right' when it comes to 'Straight Time.'  That's who I want to get it past.
"Where does that stand next to an Academy Award?  It's higher."
"Don't look a gift horse in the mouth."
When it comes to the inevitable — questions concerning the rat race of Oscar season — it's difficult to steer clear of the fact that it's something Hoffman has shown a level of disdain for in the past.
In 1974, the actor called the annual Oscar ceremony "obscene" and "no better than a beauty contest."  There are plenty who would agree, certainly, though Frank Sinatra was not one of them.  At that year's festivities the Rat Packer responded that "contrary to what Mr. Hoffman thinks, it is not an obscene evening. It is not garish and it is not embarrassing."  It's one of those moments of Oscar lore, forever pinning Hoffman as a rebel in the face of what the Academy Awards stand for.
But for his part, Hoffman's concern is with the integrity of the process, and certainly, the idea that subjectivity alone flies in the face of the idea of a "best" film or performance.
"To design an award where you can only fit in five seems odd," he says, "or that you must put in five.  And I've been around long enough to know there's no law that says that the members of the Academy have to see every film that's nominated before they choose.  That rule is in effect with documentaries and foreign language films.  You have to sign when you go in.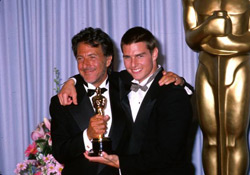 "When I get the ballot, I don't vote if I haven't seen all the films that are nominated.  I just don't vote.  Another question would be how many people are just voting for a friend?  Or what percentage of Academy members are voting?  Maybe half the Academy winds up voting.  It's like the elections, when they say 60 percent is a great turnout.  Well what about the other 40 percent?"
The awards season is about "power," Hoffman says.  "It helps the film to be seen more.  I guess it puts the actor, momentarily, in a more advantageous position, in terms of getting roles.  And it's flattering.  Don't look a gift horse in the mouth.  But I've always thought there's such wonderful work that gets ignored because people just don't even know about it.  I know sometimes immediately if I see a performance, let's say in an independent film, and it doesn't do business, I can bet that person is going to be ignored.  And yet it's a great performance."
It's a particularly applicable perspective this season as Hoffman has been one of Melissa Leo's biggest champions for her work in Courtney Hunt's "Frozen River."  But that wariness of the process stretches to the political arena as well, and a somewhat sobering note that recalls one of Hoffman's many Oscar-nominated performances, as film producer Stanley Motss in Levinson's "Wag the Dog" 11 years ago.
"The disturbing aspect of it to me is it's distribution that elects the president," he says.  "It's marketing.  Obama spent more money than any candidate in history, which is obscene.  It's no different than movies, which means we're electing our president based on sound bites.  The same kind of people that make up a beer commercial, they're the same people that are hired to do these [campaign] commercials.  Therefore we're picking a president the way we'd pick a beer.  That's sad."
To bring it back around to the here and now, Hoffman finds himself in the rat race once again with his role in "Last Chance Harvey."  He's in the middle of adapting Scott Turow's "Personal Injuries" as a vehicle for himself to both star and, for the first time, direct.  He still dabbles in jazz piano, a characteristic lent to Harvey Shine for the purposes of building character in Hopkins's film.  And, as always, he's working hard at coming around to this brave new world of gadgets and gizmos.
"I'm trying," he says.  "I'm trying."