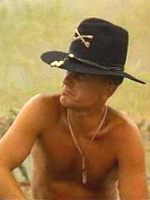 I think this is important to state right now.  Why do Kris, Guy, Gerard, Blake, Brian and I do what we do? How did we get on this path?  Obviously, I cannot speak for them, but here's my story and some insight into why I love film, and how deeply that love goes.
Though my education on film began at the age of seven in a small Ontario village called Seagrave (where I live now), the actual "eureka" moment came in August of 1979, 10 minutes after walking out of the first Toronto showing of Francis Ford Coppola's "Apocalypse Now." For the previous three hours I had sat and watched Coppola's surrealistic exploration of Vietnam, its images haunting me throughout. I was numb as I sat down on the street bench a few feet from the theater entrance.
At the age of 20, I was an acting student hoping to become a film actor, but at that moment I had been galvanized in some way I could not fully explain. For years I had consumed all things cinema, seen everything I could, set my alarm to watch the late, late shows and wrote my own reviews, which I kept in a large binder.  Somehow I knew right then that acting was not for me (I was never really any good).  I wanted to write about film.
I got back in line to see the film again and began speaking to people around me in the line who had seen me come out of the theater. They wanted to know what I thought, and I told each of them, "Your life is about to change." More than anything I wanted to celebrate the greatness of film, to spread the joy of cinema, to discuss and debate cinema as art and entertainment.
I made mention earlier of my film education beginning in Seagrave. My dad used to to put my me and my brothers to bed on Friday nights at seven, only to wake us up at 11:25 to go down and watch Fright Night Theater, which used to broadcast all of the old Universal Monster movies out of Buffalo. There we sat on the couch wrapped in a blanket, our eyes wide with fear as those old black and white films were shown before us. Oddly enough, I live just a block away from that old house in Seagrave as I married a country girl.  Dad would later take us to see "The Ten Commandments" in a re-release of the film in 1971 and upon seeing Charlton Heston part the Red Sea I was hooked…period.
Of course things did not happen quite as I had planned. I gave up the acting dream, but one of my professors believed I was an excellent director and guided me through the beginnings of being a stage director. I never gave up on film, though.  I never felt the same way about the theater as I did about movies, but I had to make a living. Over the years I directed more than 40 plays, with a special place in my heart for post-war American drama, the works of Arthur Miller, Tennessee Williams and William Inge. All the while I kept seeing every film I could, celebrated the coming of VHS and home entertainment (which quadrupled my film watching) and reading every book written by Pauline Kael, John Simon, and anything cinema related, biographies being a favorite.
In the early 1990s I was offered a chance to create, produce and host a TV show about film. For one half-hour my on-screen partner Christopher Heard and I discussed film, but not in the Siskel & Ebert style.  We would devote entire shows to a single film or actor or director. The show became enormously popular in Toronto, the U.S. studios took note and soon we were being sent on junkets, becoming well known in Canada.
I hated that part. More than anything I hated being approached on the street by someone who was a fan of the show. Once I was in an HMV store with my two-year-old in my arms and a lady loudly came at me regarding some comments I had made about "The Sound of Music."  I left the show after seven years when I was offered a dream job, writing for a national magazine: Life and Fashion Magazine. They wanted me to be their film critic. Wow.
The writing took off.  Soon another company called and asked me to write a syndicated GTA newsgroup for them that saw my reviews published in more than 20 Canadian papers, and of course the Internet. I still make TV appearances on the CBC and for a small network in Toronto on a show called Durham Today, but I do not miss TV. The book deal with Greenwood came into play two years ago and is a dream come true, five books in three years is what they want, and of course, I am Director of the Toronto Film School.
Why a critic?
I live, breathe, sleep and eat film. My dear wife, also a film junkie (what else?) once said film was my drug.  In 2001 I was in a terrible car accident that left me partially handicapped and in chronic pain, with some memory loss. Incredibly, all of the movie knowledge was still in place when I awoke three weeks after the crash.
Movies fulfill a need in me I cannot quite explain, but I cannot imagine my life without them. I still, after tens of thousands of films, experience a high when those lights begin to dim and the screen flickers to life. Every film I walk into might be the best I have ever seen, and though most are not very good, the love of the art has never been diminished. I have watched other critics, friends of mine, become jaded and angry with film, leaving to go write about something else, as they should. If there is ever a moment when I get like that I have asked my wife and friends to let me know so I can move on.
When not watching movies I am reading books about them, bios of actors and directors, studies of genres, histories of other countries' film industries — film, film, film. How much do I love it? Some of my writing I do for free, just to do it. There is nothing better than sharing with people a love of an art that provokes debate and discussion. After seeing "There Will Be Blood" for the first time last year at a critics screening I called my wife and told her about it…just to share that was extraordinary. At 49, closing in in on the big 5-0, I still find myself learning. Guy Lodge, I must say, has taught me a great deal and I hope I have done the same for him.
I may not agree with what people write on the site, and in fact I disagree with our editor quite a lot.  But we agree to disagree because we love film. Of that let there NEVER be any doubt. Far too much time is put into this website for us not to love what we are doing.
But enough about me.  Tell me YOUR story.