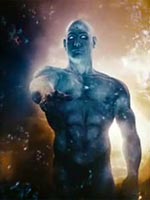 It won't be a Merry Christmas in Burbank this year:
In a surprise ruling, a federal judge in Los Angeles said he intended to grant 20th Century Fox's claim that it owns a copyright interest in the "Watchmen," a movie shot by Warner Brothers and Legendary Pictures and set for release in March.

The decision was disclosed in a five-page written order issued on Wednesday. Gary A. Feess, a judge in the United States District Court for Central California, said he would provide a more detailed order soon.

Fox has been seeking to prevent Warner from releasing the film. The superhero adventure, based on the "Watchmen" graphic novel, is being directed by Zack Snyder (who also directed "300") and has shaped up as one of most eagerly anticipated releases for next year.

A Warner spokesman, Scott Rowe, declined to comment on the ruling and the studio's plans…

"Fox owns a copyright interest consisting of, at the very least, the right to distribute the 'Watchmen' motion picture," the ruling said.
The rest. And catch up on the story as it's been reported here and here.