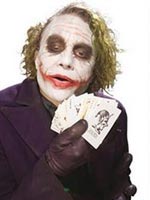 I missed this earlier this morning, but it looks like The Carpetbagger is going back to the "Dark Knight" well this holiday eve:
But regardless of what goes into it, what came out of Mr. Ledger in "Dark Knight" was stone amazing. If part of acting — and it's clear we are just guessing here — is making what is inside a character visible on the outside, then Ledger hit one hard in that movie. The Bagger doesn't care from "Batman," but what Ledger did in that film, taking a malevolent clown's rococo world-view and exposing the gears, was something to behold. We all believed that Joker in the movie, we all understood his vicious take on the world. There's been more than a few times in the last few days when the Bagger has heard that maniacal laugh in his head and thought of the man who inhabited on a movie set.
Check out the rest here.