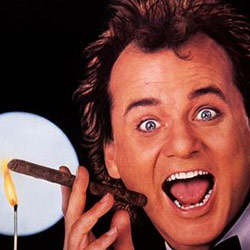 Tis the season, no?
I found it rather perplexing that, with In Contention being on the scene for three Christmas seasons already, we've never set about putting together the obligatory "best Christmas films" list.  Well, I'm setting out to amend that oversight this holiday week with such a collective, but I don't have the heart to call it a "best" list per se, so I'm giving it a different angle.
Every year I have a few staples of the season that make their way into my DVD player or, in some instances — gasp! — my VCR, like new friends come home to visit before going back on the shelf for another 12 months stretch.
Typically, I just can't feel right about the holiday season without taking in the films on this list at least once.  They've slowly gelled into my "must-watch" Christmas movie list for various reasons: reminiscence, unavoidable television programming, uniqueness in the face of the typical seasonal film glut, etc.
While there are a handful of classic, well-made staples that would be agreeable to the masses as far as quality is concerned, I think everyone's list would be different when it comes to this kind of thing.  With that in my, my list of the top 10 perennial must-watch Christmas movies should give you some insight into who I am.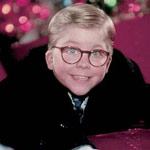 10. "A Christmas Story" (Bob Clark, 1983)
Chalk this one up in the "can't escape it because of TNT" category.  I love the film, though.  I really do.  It's a childhood favorite that took on many different, nuanced meanings over the course of my life, but I certainly don't own it so I certainly don't seek it out to give it a look.  It just comes to me, begs for my attention with repeat viewings, insists on catching me at whatever inopportune time it might be and forces me to sit an enjoy, because what else can you do?  If "It's a Wonderful Life" is a nag for all the wrong reasons, "A Christmas Story" is a nag for all the right ones.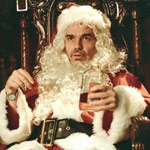 9. "Bad Santa" (Terry Zwigoff, 2003)
I wasn't an immediate admirer of Terry Zwigoff's irreverent take on the season beyond the usual and expected gufaws that Billy Bob Thornton's work induces.  But over the past four years, I find myself itching to see it again this time of year, so I finally grabbed a copy on DVD last year rather than blowing a couple of bucks on a rental each time out.  We need more films like this, really, efforts so unapologetically brazen that don't even seem to be trying, unlike other films of the sort.  It's genuine in its fuck it all candor and really, this time of year, don't we all eventually find ourselves in a "fuck it all" frame of mind eventually?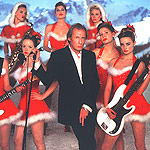 8. "Love Actually" (Richard Curtis, 2003)
It's the hopeless romantic in me, but I have to pull this one off the shelf annually and delight in the gooey center of Richard Curtis's love letter to love.  Part of it is the ensemble, a clever mingling of a talented cast around a simple, yet paradoxically complex theme.  Another part has to be the music, used in such a way as to chip the ice away from the coldest of hearts.  But mostly, it's for the Liam Neeson storyline and a pathetically adorable kid stumbling upon "the total agony of being in love."  It makes me hide that Grinch inside for just a few short hours and hey, the girlfriend likes it too, so what can you do?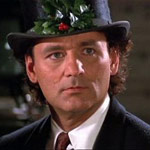 7. "Scrooged" (Richard Donner, 1988)
Probably one of the more under-appreciated Christmas films of all time, Richard Donner's spin on Charles Dickens was a hell of a vehicle for a late-1980s Bill Murray and a delightfully creepy alternative to Frank Capra.  When I think Christmas movies, one of the first things that pops into my head is the "Put a Little Love in Your Heart" singalong over the closing credits, a nice fourth-wall-crashing moment that puts a big bow on this charmer.  BUt I have to say, even as an adult, I'm a bit freaked out by whatever is going on under the Ghost of Christmas Future's robe.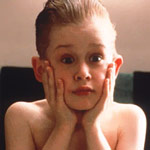 6. "Home Alone" (Chris Columbus, 1990)
An instant classic.  I remember Chris Columbus's "Home Alone" seemed unwilling to ever leave theaters back in the fall of 1990, and with those box office receipts, the reasons are obvious.  Macaulay Culkin had such promise and it seemed the casting directors deserved medals of honor for their pitch-perfect vision of a intriguing cast of characters.  But the real stars of the franchise quickly became Joe Pesci and Daniel Stern, a screen duo for the ages that made for a brilliant antagonist troupe to root against.  Also, it's impossible to leave it without mentioning John Williams' score, a scaling wonder that instantly recalls the season.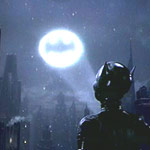 5. "Batman Returns" (Tim Burton, 1992)
The least "Christmas movie" of the bunch, Tim Burton's follow-up to 1989's "Batman" is a snow-covered carol of the twisted sort.  I still think it would have been a stroke of brilliance if Warner Bros. had released the film some time between November and December, given the atmosphere of the film, but then the studio would have missed out on some major summer dollars.  Still, crowding into a sultry theater on a June afternoon in 1992 just didn't seem right with all the glimmering snow and ice-marching penguins.  But that's okay, because now it gets an annual visit to my DVD player right around Christmas time!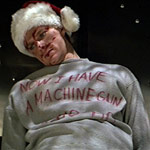 4. "Die Hard" (John McTiernan, 1988)
In many ways, it's the ultimate Christmas movie, packed with family squabbling, yuletide fireworks (of a different sort) and the sounds of Dean Martin on the soundtrack.  But this ain't your father's Christmas flick, in case the terrorists didn't tip you off.  Yes, John McTiernan's game-changing action extravaganza earned a spot on this list with bullets, bravado and Bruce friggin' Willis.  I even refrain from giving it a look throughout the year because I know I'll be spoiling my holiday appetite.  And really, let's face it.  "Now I have a machine gun.  Ho, ho, ho" is the greatest Christmas movie line ever.  Period.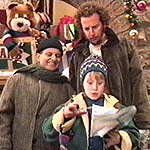 3. "Home Alone 2: Lost in New York" (Chris Columbus, 1992)
I don't know if I'm ready to call "Home Alone 2" a superior film to the original, but I do know I prefer it.  It has less to do with quality than the overall atmosphere the film evokes.  New York is the most fetching of Christmas settings and moving the story there was probably the only call to make, but taking Kevin McCallister on a tour of the Big Apple is exciting for any kid.  Again, Joe Pesci and Daniel Stern serve as a brilliant pair of villains, perhaps offering more laughs than their work in the original, which is an accomplishment to say the least.  Tim Curry and Rob Schneider add plenty of yuk-yuks as well.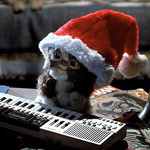 2. "Gremlins" (Joe Dante, 1984)
It's the TIm Burton film Tim Burton never directed, but it's also one of the most brilliant sci-fi-horror-comedy flicks of all time with a hell of a cast of creature characters and a nice anchor for the tale in Zach "What Happened to that Guy?" Galligan.  Howie Mandel's vocal incantations made Gizmo a delightful character for the kid in us all, but I've always been taken by the creativity of his San Francisco Chinatown origins, to the point that it's difficult to walk down Grant Avenue without the sounds of Jerry Goldsmith's memorable score thumping in my brain.  A modern classic for the movie lover in us all.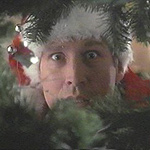 1. "National Lampoon's Christmas Vacation" (Jeremiah S. Chechik, 1989)
Nothing makes me laugh harder than any number of instances and one-liners from this, the very best of the "Vacation" series.  Cousin Eddie's lewd antics, Uncle Lewis's cigar flame-out, Aunt Bethany's quip about "Grace," the haughty-taughty Chesters next door, a dazzling Christmas lighting display, a sight gag minutes removed from the snowsled race sequence it references, and indeed, "Merry Christmas, Merry Christmas, kiss my ass, kis his ass, kiss your ass.  Happy Hanukkah."  I spit out my eggnog every time.  Just do yourself one massive favor: avoid the sequel at all costs.  You'll thank me later.
Have your say!  What are your favorite films to watch this time of year?