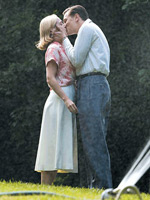 One of the biggest surprises of the awards season for me is the fact that "Revolutionary Road" is being all but forgotten by many critics groups and has certainly slipped off the Oscar radar as a result. Is the film deserving?  Absolutley.  I think it is one of the best films of the year and among the finest I have seen this decade, but for whatever reason — and who can explain these things — it has not gotten a great deal of press.
This is a major accomplishment, a work of art superbly directed by Sam Mendes who in eight years has become one of the most exciting directors in modern cinema. Though I count myself among those who though his breakthrough film "American Beauty" was very good but also radically over-praised, his follow-up, "Road to Perdition," was superb and should have been among the nominees for Best Picture and Best Director in 2002, vastly superior to "Chicago."
His third film, "Jarhead,"  was darkly beautiful to look at but didn't quite work with audiences who are still not interested in films about Afghanistan or Iraq (whichever installment).  Mendes possesses a gift with actors, one of those directors like Woody Allen, Martin Scorsese and more recently, Paul Thomas Anderson.  He's able to bring out their best work.  It seems no surprise he married an actress.
He is also patient with a narrative, allowing it to unfold with the knowledge the audience connects with the actors.  With "Revolutionary Road," he has cranked out a crowning achievement in a career just getting started, and yet like so many other masterworks, it may slip through the cracks, barely noticed.
Leonardo DiCaprio is a revelation and again makes clear he is simply the finest young actor in movies, perhaps the greatest actor to emerge since Marlon Brando — and I stand by that.  DiCaprio will never be caught giving a forced or false performance as every line he utters seems authentic, as though he were speaking it for the first time.  Quietly he slips under the skin of his character.  The comments about his beauty are getting old; where is the rule saying good-looking men cannot be great actors?  In "Road," he also offers his career-best work.
This is an actor who was astounding as a mentally challenged young man way back in "Who's Eating Gilbert Grape?" and magnificent in "The Aviator," "Blood Diamond" and "The Departed."  There is an Oscar in his future, without question.  But not this year.
Kate Winlet is the finest young actress working in film and she has been for a long time now. For just over a decade Winslet has graced the screen and given an array of superb performances beginning with Peter Jackson's haunting "Heavenly Creatures" and Ang Lee's "Sense and Sensibility" before riding a sinking boat to an Oscar nomination in 1997 opposite DiCaprio.  While her best work (until "Road") was "Eternal Sunshine of the Spotless Mind," she was also superb in "Little Children" and "Iris," displaying a range that rivals that of Meryl Streep. This year she is a double threat for nominations, certainly a shoo-in for Best Supporting Actress in "The Reader" and very likely for Best Actress in "Revolutionary Road."
In the film, Winslet and DiCaprio are a young couple caught in a dysfunctional marriage that could lead them to become George and Martha in 'Whoi's Afraid of Virginia Woolf?." Their desperation in trying to escape is deeply moving and tragic because their love for one another is most apparent.  It's all very powerful stuff, uncomfortably real and sometimes agonizing to watch and that is precisely why the film may not be catching with critics.  It is getting respect, but not the adoration it so deserves.
How sad, because in years to come, "Revolutionary Road" will be discussed as one of the great American movies of the decade. How often has this happened over the last 35 years?  "Close Encounters of the Third Kind" (snubbed for Best Picture nomination), "Manhattan" (which might be Woody Allen's best work), "Prince of the City," "Once Upon a Time in America," and more recently, "The Assassination of Jesse James by the Coward Robert Ford," a bonafide masterwork of modern cinema.  The list is endless.
What are some modern marvels, snubbed in their time but standing the test of longevity?  Have at it in the comments section.