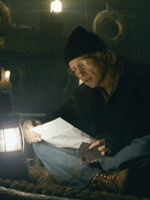 Sasha Stone over at Awards Daily points us to Roger Ebert's two-and-a-half star review of "The Curious Case of Benjamin Button," and I have to say, it's a pretty rough assessment.  Scattering his piece with notions like "[t]he movie's premise devalues any relationship" and "[g]iven the resources and talent here, quite a movie might have resulted," Ebert finally closes with this swipe at the film:
According to the oddsmakers at MovieCityNews, "The Curious Case of Benjamin Button" is third among the top five favorites for best picture. It may very well win. It expends Oscar-worthy talents on an off-putting gimmick. I can't imagine many people wanting to see the movie twice. There was another film this year that isn't in the "top five," or listed among the front-runners at all, and it's a profound consideration of the process of living and aging. That's Charlie Kaufman's "Synecdoche, New York." It will be viewed and valued decades from now. You mark my words.
I can't help but consider the fact that Ebert's tastes are typically comparable to the Academy's.  Might this reaction and some of those "it lacks a soul" quips begin to eat away at the armor?  Or can it sustain with voters siding with, say, James Rocchi's opinion that the film "isn't about a man who lives backwards or a woman who lives forwards … Get past the plot, the pitch, and the technique, and you can see it as a reminder that all we can do is live now."
Personally, I have a lot of respect for the film and certainly the effort.  After a couple of viewings, I saw it as one of the year's best.  But I completely understand the arm's-length feeling some viewers are taking away from it and, again, can't help but wonder what, if anything, that might ultimately mean for Oscar.
It's an intriguing question popping up this season.