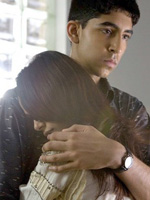 It looks like the critics groups are slowly winding down this season, the annual influx finally settling in for a post-glut nap.  I believe the only organizations left to announce are the Kansas City, Vancouver and Central Ohio crowds, as well as the National Society of Film Critics, all of whom should reveal their winners in the new year.
With that in mind, I've gone ahead and compiled a list of links to the various groups to announce so far and their lists of winners and/or nominees.  In some cases, there are still only nominees (like the BFCA and HFPA), with awards shows still to come.  But for the most part, I think we've got a clear consensus winner from the critics this season: Danny Boyle's "Slumdog Millionaire," with a striking 10 wins to its credit so far.  I think it's safe to say the London critics will hand the film their Best British Film of the Year award, bringing the tally to 11, and frankly, I feel like it's signed, sealed and delivered from the BFCA.  So if we feel safe assuming, we're talking 12 big wins all told before the final four groups chime in at the top of 2009.
Of course, it's not the consensus we had last year or in 2005, but it's a pretty clear indication that the year's critical champ is Boyle's explosive and dynamic endeavor.  Does this put it on a course for an Oscar?  Maybe.  But we still have a long way to go.
So far there are seven films with the designation "best of the year," some in the way of ties.  Those films are "Slumdog," of course, then "The Dark Knight" (3), "Milk" (3), "WALL-E" (3), "The Curious Case of Benjamin Button" (2), "Frost/Nixon" (1), "Happy-Go-Lucky" (1) and "Wendy and Lucy" (1).  Nothing so far for Best Picture hopefuls "Doubt" or "Revolutionary Road."
I'll revisit this post in a few weeks with the grand total.  But for now, the critics awards so far, with links to our own coverage where applicable:
African American Film Critics Association — "The Dark Knight"
Alliance of Women Film Journalists — "Slumdog Millionaire"
Austin Film Critics Association — "The Dark Knight"
Boston Society of Film Critics (IC coverage) — "Slumdog Millionaire," "WALL-E"
Broadcast Film Critics Association (IC coverage) — winners announced Jan. 8
Chicago Film Critics Association (nominees, winners) — "WALL-E"
Dallas-Fort Worth Film Critics Association — "Slumdog Millionaire"
Detroit Film Critics Society (IC coverage: nominees, winners) — "Slumdog Millionaire"
Florida Film Critics Circle — "Slumdog Millionaire"
Houston Film Critics Society — "The Curious Case of Benjamin Button"
Hollywood Foreign Press Association (IC coverage) — winners announced Jan. 11
International Press Academy (IC coverage: nominees, winners) — "Slumdog Millionaire," "Happy-Go-Lucky"
Las Vegas Film Critics Society — "Frost/Nixon"
London Film Critics Circle (IC coverage) — winners announced Feb. 4
Los Angeles Film Critics Association (IC coverage) — "WALL-E"
New York Film Critics Circle (IC coverage) — "Milk"
New York Film Critics Online — "Slumdog Millionaire"
Phoenix Film Critics Society — "Slumdog Millionaire"
San Diego Film Critics Society (IC coverage) — "Slumdog Millionaire"
San Francisco Film Critics Circle (IC coverage) — "Milk"
Southeastern Film Critics Association — "Milk"
St. Louis Gateway Film Critics Association — "The Curious Case of Benjamin Button"
Toronto Film Critics Association (IC coverage) — "Wendy and Lucy"
Utah Film Critics Association — "The Dark Knight"
Washington, D.C. Area Film Critics Association — "Slumdog Millionaire"