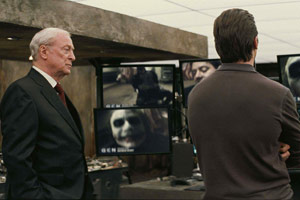 The critics have nearly concluded their annual kudos dish.  The first guild has spoken, giving us some sliver of insight into what Academy members might think of the 2008-2009 Oscar season.  With such a thin crop of contenders, the tome has been "broad, but shallow, playing field," leaving the opportunity for multiple films to find their champions and even the least AMPAS-friendly of products to find room at the table.
So as we inch toward year's end, what have we learned?  When it comes to the usual blend, the Academy will find a way.
A scenario has been kicking around inside my head for some time that, like one concerned reader in another post, scares me to death.  It is pretty much a done deal for "Slumdog Millionaire" and "The Curious Case of Benjamin Button," two refreshingly different films where AMPAS tastes are concerned, but paradoxically boring with the knowledge that there is passion elsewhere, seemingly too intimidated to rear its head.
"Frost/Nixon" and "Milk" are assured after that, it seems, two films cut from the AMPAS cloth from a director who knows that cloth well and one who only finds Academy acceptance when he goes there, respectively.  After that, "the knowledge" has become the truly exciting spark of the season: can a populist film such as "The Dark Knight" or "WALL-E" find the right base of passion to push through for a Best Picture nomination?
I fear we may have all gotten carried away with ourselves and our love of these films, whether you fall on one side or both, because we're ignoring AMPAS tendency at our own peril.
In a nutshell, I'm somehwat afraid that John Patrick Shanley's "Doubt" will push past the populist entries and make for the most boring slate of Best Picture nominees we've seen in a good many years.  It is sitting there, hovering, waiting for its opportunity, perhaps hopeful that "Frost/Nixon" is the speed bump it has to overcome, perhaps not.  But while I would saddened by a lack of Academy cojones to vote films like "The Dark Knight" or "WALL-E" into their field of the year's best, "Doubt" finding its way there would be a forehead-smacking moment I don't want to deal with.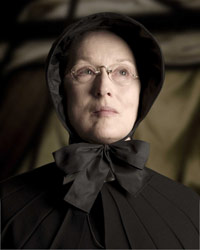 Dutch angles don't suddenly make a play cinematic.  Meryl Streep's cawing will be forgotten forever on February 23.  And a nomination for Best Adapted Screenplay should be seen as an insult to writers like Eric Roth and Simon Beaufoy who dug for creative ways to carry their yarns from their respective source materials to the screen.
Am I alone here?  Going into the season, even recognizing the drought of quality, I thought this would be a rather surprising Oscar season.  I thought a lot of these fringe efforts could muscle in.  Certainly the five or six obvious Oscar contenders would not be the ones left standing?  Certainly such a small slate would force awards-giving bodies to look in the crevices of the year?  In the final analysis, it seems the scenario has bred a sort of laziness, the job already done for them.  Check the same five boxes and move on to 2009.
What a shame.  BUT, it's not over yet, and so this could simply be my yuletide negativity getting the better of me.  Christmas is three days away and I'm removed from the rat race of Los Angeles until the new year, so relaxation is key.  And with that, I'll keep it short.
Allow me to wish all the "Off the Carpet" readers a happy holidays.  Be safe, wherever you are, and find the warmth in whatever does it for you.  It comes but once a year.  Here are some early gifts from me to you…UPDATED CHARTS!
Ho, ho, ho.

Main Category Charts
Technical Category Charts
The Contenders
Oscar Prediction Archives