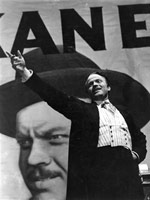 Kris is taking some heat in some quarters for his comments on "WALL-E," and while he has never said it was a bad film, he didn't fall over himself seeking superlatives for it either.  In fact, the movie did not do much for Kris, which is an unpopular sentiment, given the critics awards and rave reviews for the film.
Why is this not okay with some people?  Similarly, why is not okay to say that one does not feel "Citizen Kane" is the greatest film of all time? I don't think it is and you have no idea the heat I take for that. Kris made a bold decision, one he believed in, one he felt was right, one that was honest.
When will people realize that at the end of the day we are all critics with an opinion, but some of us are fortunate enough to do it for a living?  Does that set us apart?  Not really.
Watching a film is connected to the oldest of rituals, similar to the ancient Greeks filing in to see a play and watching with rapt attention the players on stage. They then left the play and discussed it, just as we do today with cinema. Maybe we like the film, maybe we don't…it is all opinion-based and at the end of the day, no one is really wrong.
Granted, there are films that are simply brilliant with seemingly no argument — "The Godfather" and "On the Waterfront" come to mind — while films like "Freddy Got Fingered" are garbage. I may disagree with someone who likes Tom Green's film "Freddy Got Fingered" and will argue with them emphatically as to why the film is bad, but I will forever accept, defend and understand their right to think what they think of the film.
Kris made a statement on "WALL-E" and I stand by him as one of those who feel it is a good film, not a great one. I remember a few years back taking some heat for not liking "The English Patient" and a year later "Life is Beautiful," but I stood by my comments and still do. I clearly remember sitting in a theater wishing Kristen Scott Thomas would die in that cave so we could go home, while Bengini's incessant mugging made me ill. Clearly I was in the minority but it was a place I did not mind being. On another note I remember loving Steven Spielberg's "Empire of the Sun," a box office flop with mixed reviews, but a masterpiece that I adored and years later the film is finally earning long overdue appreciation.
Let's all agree that we all have opinions and that we all love film. I have been doing this for more than 25 years and am thrilled to say I've learned as much on this site in the last year as in the 10 years previous. Disagree with me, fine, just back it up, challenge me but be ready for a fight…and never tell me that I have no right to think what I think.