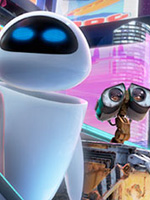 [T]he film actually makes some pretty problematic political arguments…the point of discussion and debate is not all adulation and praise: there are real ethical talks worth having over this film, and if there wasn't room for any dissenting opinions, I would say it failed. So, no kids gloves: it can play with the big kids, so let it.
The whole conceit of Wall-E's second half is fat-bashing at its most pernicious and damaging. The robots are terrific, the Axiom is despicable. This is not a film I would want to see nominated for Best Picture. Just compare it to Milk, which unmasks prejudice rather than encouraging it.
Apathy is constructed here as a refusal to cultivate the body properly. And there is an ethical imperative in any suggestion of what is and is not a proper use of the body. My concern is: what does this insistence that the body can and thus ought to be beaten into shape, and that everyone really ought to do real physical work rather than just floating around, say to people who cannot beat their bodies into shape and cannot do normal work?
A trio of smart, against-the-grain "WALL-E" reactions from Awards Daily posters in the face of blind and offensive support for the film from commenters who have little to offer beyond quips like "you are too stupid to live" and "[I]t seriously pisses me off when I'm walking through a hallway, or down an escalator and I can't get through because of a fat piece of shit."  (To be fair, there are some level-headed counter assessments, but they get drowned out, sadly, by this vitriol.)