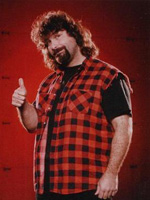 I think there are few who would disagree that the audience to sell for Darren Aronofsky's "The Wrestler" was a guy like Mick Foley — a.k.a. "Mankind," "Dude Love," and "Cactus Jack" — a cross-federation staple of the professional wrestling world who's lived through his fair share of ladder matches, barbed-wire-inflicted line-of-duty injuries and, certainly, knows the difficulties of raising a family in tandem with such a dangerous career.
It looks like Aronofsky and company had him at "hello."  Writing recently in Slate, Foley had the following say in the way of praise for the film:
The chances of seeing a great pro-wrestling movie seemed right up there with the likelihood of a Mickey Rourke career renaissance. You can see why I was pessimistic about Darren Aronofsky's wrestling project. I received an inquiry early on about serving as a consultant but cited the need to "spend time with my family" as a reason to refrain. If I felt like having my name attached to a failure, I figured, I'd write another novel. Casting Rourke in the lead seemed like a mistake. Sure, he had been in some good films a few election cycles ago, and I'll admit to stealing his popcorn-box trick from Diner back in '82. But he seemed unlikely to deliver the portrait of a wrestler I wanted…

I was hooked within a minute. Within five, I had completely forgotten I was looking at Mickey Rourke. That guy on the screen simply was Randy "the Ram" Robinson, a '80s mat icon on a two-decade-long losing streak in the game of life, searching for a way, any way, to fan the dying embers of his career…

I found great authenticity in so many aspects of Randy's battered psyche. His constant need for acceptance—from his estranged daughter; from his possible love interest, a stripper played by Marisa Tomei (who is wonderful, if a bit shocking for any guy who ever had a crush on her in My Cousin Vinny); from a random collection of customers at the deli counter where he works; from his dwindling number of nostalgic wrestling fans—is a theme that many a wrestler will grudgingly admit to connecting with.
It's a hell of a read.  Check out the rest here.