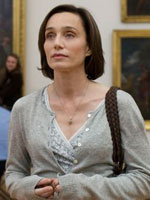 Having been a film critic for more than a quarter of a century now (my God) and a film junkie for more than 40 years, I have never gotten over the joy of surprise when an actor or actress comes out of left field with a performance of such brilliance it eliminates every single bad performance or bad film they have ever been associated with.
As a critic and a journalist, I tend to call it as I see it, sometimes to a fault.  I remember a stunned Al Pacino looking at me flabbergasted when I asked why the devil an all powerful evil being would have to shout so much as he did in "The Devil's Advocate."  He eyed me up and down for a few uncomfortable seconds before answering, beginning with, "So your one of the honest guys."
And there have been those delicious moments when I have been forced to eat my words. And you you know what?  I love it.  I love seeing an actor I had written off or dissed deliver a breathtaking portrayal to the point that I can scarcely believe what I've seen.
It happened this year for me with Kristen Scott Thomas in "I've Loved You So Long," a stunning piece of acting from a thesp I had previously loathed. I remember being at press screening for "The English Patient" in the fall of 1996, after barely enduring the film.  Thomas was ice cold, leaving me to wonder who could love this woman, and worse, why would they?  Nothing else she has done since impressed me much until now, and frankly, her performance left me in awe.
There have been others, of course.  Sally Field had been written off as "The Flying Nun" and Burt Reynolds's latest squeeze in those goofy "Smokey and the Bandit" films in the late 1970s.  She gave a remarkable performance on TV in "Sybil" as a woman with multiple personalities, but nothing prepared me for her superb performance in Martin Ritt's beautiful little film "Norma Rae," about a woman recognizing her potential amid textile union politics. Field was astounding, winning every major acting award there was, including the Oscar.  The performance remains one of the finest ever captured on film.
Though I cannot say I dislike the work of Julia Roberts, I do admit to never thinking much of her as an artist.  I never believed she could explore the complexities of a character.  Roberts was, to me, a movie star rather than an actress.  In "Erin Brockovich," she silenced me with a performance that was a perfect merging of role with celebrity.  Should she have won the Oscar over Ellen Burstyn in "Requeim for a Dream?"  Not likely, but I get why she did and I smiled when she made her way to the podium.  A few years later she proved it to be no fluke with a powerful piece of acting in "Closer" opposite Clive Owen.
I group Penélope Cruz with Roberts, a star  I once believed was limited to the roles she was getting in "Blow" and "Vanilla Sky."  Again, I was blown away by her work in "Volver" and even more so this year in Woody Allen's "Vicky Christina Barcelona," which I believe will win her the Academy Award for Best Supporting Actress.
Finally, Halle Berry may have been kitty litter in "Catwoman," but in "Monster's Ball," she gave a performance Robert Duvall has told me might be the finest performance by an actress…period. Berry was searing in the film and famously won the Oscar for it, before launching into a series of dreadful career choices.  That is until her very fine work last year opposite Benicio Del Toro in "Things We Lost in the Fire."
While I have hated the work of the aforementioned women in the past, at some point they made it clear to me I was wrong for writing them off, for thinking them talentless. And that is all it takes, because for at least one film, they soared, they became legend, their work became immortal. And it feels good it see it, to experience that change and evolution. Nothing will change my mind about "The English Patient" nor Thomas's work in the film, but never again will I diss her as an actress, because she made it clear to me this year she is a sublime artist.  Sometimes it's nice to be proven wrong.
How about you?  Can you think of an actor or actress you had written off only to be pleasantly surprised?  Tell us in the comments section below!