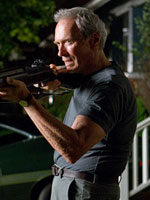 It could happen…but it shouldn't.
My admiration and love of Clint Eastwood's work as a director was enough to send me on an 18-month research and writing spree, piecing together a study of the man that should be in bookstores in a week's time. In the forward, I make clear that had anyone suggested to me in the 1970s that Eastwood would one day be an Oscar-winning director and producer, one of the best directors working in modern cinema, and a two-time Best Actor nominee, I would have laughed, long and loudly in their face.  Certainly there could be no question about his star power…he had that.  But he was hardly a great actor.
Earlier this year his film "Changeling" was released to strong reviews, but doesn't seem poised to do much for him come Oscar time (a shame).  But there is talk of a Best Actor nomination for his performance as crusty, cranky, tough-as-nails Walt Kowalski in "Gran Torino."
Actors have won Oscars masquerading as a career achievement in the past. Hell Al Pacino must know as do we that "Scent of a Woman" is not his best work, yet he won the Oscar for it. Henry Fonda won for "On Golden Pond," though he should have won years before for "The Grapes of Wrath," while James Stewart took home the gold for "The Philadelphia Story," one of his lightest performances.
Guy put together a smart list of similar AMPAS atrocities a few weeks ago, so I won't go into them here.  Suffice it to say, the "career achievement" Oscar is a staple of a dubious Academy year in and year out.
Eastwood has been snubbed by the Screen Actors Guild for his work in "Gran Torino," but come Oscar nomination morning, I have a strong feeling he will be in the mix. I struggle with this because his inclusion means a more deserving actor is left out for sentiment's sake.  And if nominated will he win?  More importantly, should he win?
Again a strong Eastwood fan here, but I say 'no.'  The performance is the best thing in the film, but it simply does not compare to work we've seen from Sean Penn, Richard Jenkins, Leonardo DiCaprio, Mickey Rourke, Frank Langella, Brad Pitt and Benicio Del Toro this year.  The Academy loves Eastwood, and if they truly want to honor him for something this yearm they should tip their hat toward "Changeling," because that was his greatest accomplishment of 2008.  In "Gran Tornio," Eastwood is playing a variation on "Dirty Harry" and "Heartbreak Ridge" merged with "Million Dollar Baby," and though fun to watch, there is nothing new in the work.  We've seen it all before.
I say this knowing an Eastwod win would bump up book sales for me and help line my wallet, but I really hope he doesn't take the Oscar for this, some of his least interesting work to date.  It would not only be a slight to many talented performers this year, but to Eastwood's greater accomplishments.