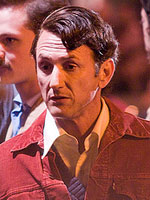 In 1977 Harvey Milk was elected to position as city supervisor in San Francisco. Milk, an openly gay man, was the first of his kind. Rather than concealing his sexual orientation, he wore it proudly, and used his influence in a largely gay section of San Francisco to do good. He became an effective advocate for gay rights across the United States until his assassination, in 1978, by Dan White. Mr. Milk and Mr. White are the subjects of the terrific new film, "Milk," directed by Gus Van Sant.
The substantially gifted actor Sean Penn plays the lead role, and he is supported by Josh Brolin, Emile Hirsch, Diego Luna and James Franco. The film has generated a fair amount of awards buzz, and it should. It's one of the best of the year.
In November, interestingly, the citizens of the state of California went to the polls to vote on Proposition 8, a measure that would abolish the recognition of same-sex marriage in the Golden State. In my home state of Arkansas, voters were asked to determine whether same-sex couples could adopt children or serve as foster parents. In both instances, supporters of gay rights lost.
If you have seen "Milk" or the exceptional documentary "The Times of Harvey Milk" by Rob Epstein, you know that Milk worked tirelessly to defeat Proposition 6 in 1978, just before his death. Prop. 6 was an effort to prohibit gay people from serving as public school teachers. As I watched "Milk," after the November elections, I couldn't help but see the parallels. Both struck at the very foundation of individual liberty.
Writing for The Huffington Post last month, Mr. Epstein observed, "Although Proposition 8 wasn't exactly a re-make of Proposition 6, it's the same disaster movie storyline pitch: any recognition of constitutional rights for gay and lesbian citizens will somehow destroy the natural order and as a result America's institutions — be they schools or marriage — will crumble."
"Milk" is on course for a Best Picture nomination at the Academy Awards early next year. It was selected as the best film by the New York Film Critics Circle and yesterday received a best ensemble nomination from the Screen Actors Guild. And no seems to be surprised by it. 2008 has been a bad one for people in same sex relationships, or who support gay rights. Still, it's plausible that in the same state that recently approved Prop. 8 by generous margins, a film directed by an openly gay man, about a gay man, his gay friends and gay rights in California could win Best Picture. Wouldn't that be something?