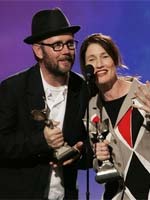 Considering it's written by the editor-in-chief of the foremost entertainment news publication in Hollywood, Peter Bart's Variety blog continues (for this reader, at least) to be a disconcertingly slipshod affair. That his pieces frequently appear so rushed and second-hand is enough cause for concern without throwing elementary factual errors into the mix.
But his most recent post, on the difficult certain directors experience in following up breakout successes, contained this groaner:
What ever happened to that loveable husband-and-wife team of Valerie Faris and Jonathan Dayton who gave us "Little Miss Sunshine" four years ago?
Uh, two years ago, Mr Bart. Hardly the longest hiatus in filmmaking history — least of all for indie-oriented filmmakers who have a prolific commercials career, and may need time to gather up funding for a project. It's pretty well-known that Faris and Dayton have been planning an adaptation of Tom Perrotta's brilliant novel "The Abstinence Teacher" (not the easiest sell in the world) since 2006, and have been working extensively with Perrotta on the script.
These things don't happen overnight — why the impatience? (Bart also manages a sideswipe at "The Lives of Others" director Florian Henckel von Donnersmarck, saying he's "stalled" since his film came out two years ago, apparently an eternity in Bart's mind.)
Anyway, the main point of Bart's post is to say that "The Abstinence Teacher" is set to start rolling for Warner Brothers in early 2009, which is obviously good news. While I found "Little Miss Sunshine" a little too pat for my liking, Dayton and Faris' jagged visual sensibility and droll line in humour should be a perfect match for Perrotta's incisive, wickedly funny study of a high school sex-ed teacher at war with a rigidly conservative suburban community. In tone and texture, it sits roughly halfway between Perrotta's other two novels-turned-films, "Election" and "Little Children," which bodes well for the new project.
Something to look forward to. If you don't mind a little wait, that is.