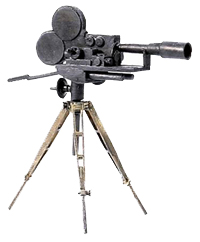 As I said a few weeks ago, I would not analyze the last "tech" category until the eligible entries had been announced. Now that the Academy has named 49 finalists for Best Original Song, and with the BFCA and HFPA rattling off their list of nominees (though they are, admittedly, not great predictors), the time seems appropriate to have an in depth look into the category.
It's a good mantra to say "there are no locks" in this field. Since the rules were changed three years ago, forcing voters to watch the songs in the context of the movie, some surprises have certainly been in store.  Nonetheless, there are two titles this year I'd be very surprised to see miss the cut.
The first is Bruce Springsteen's title track for Darren Aronofsky's "The Wrestler." One of the most deserving winners ever in this category (for "Streets of Philadelphia"), his ends credits track seems poised to bring him his third Oscar nomination. In addition to the song perfectly fitting the film, it is also simply a great tune.
I expect Springsteen to battle it out for the win with "Down to Earth," the "WALL-E" tune from Peter Gabriel and Thomas Newman.  Now here is a film whose performance in the precursors has absolutely shocked me (albeit in the best way possible). Gabriel has yet to have a hit with the Academy but he's never written anything that was so Oscar friendly before either. And while Newman has yet to be nominated for a song, he's never had a song in contention before and he's also yet to win for his portfolio of classic scores.
Admittedly, both these tunes only play at the end of the movie, over the credit roll. This seems to have become a disadvantage in recent years. But I still would be surprised if either title failed to make the cut when all is said and done.
To say that Miley Cyrus has become a phenomenon in recent years would be an understatement to say the least. This year she has an excellent chance to add "Oscar nominee" to her already amazing list of accomplishments for a woman of her age with the song "I Thought I Lost You" from "Bolt." A recipient of Golden Globe and BFCA nominations, the song, though not my cup of tea, is nonetheless catchy enough, and from a respected enough film, that I suspect she'll find her way into the category.
"Jaiho," from "Slumdog Millionaire," also seems like a good bet for a nomination here. A very catchy tune from the likely Best Picture winner, it is also a way to honor A.R. Rahman, in case the stingy composers don't find room for him in Best Original Score.
I am actually leaning towards our third nominee being none other than Clint Eastwood, however. I have never expected him to be embraced by the music branch for his Spartan scores, but having received his fourth and fifth Golden Globe nominations for composing this year, this could be an easier way to cite his love of music. That said, four songwriters share credit here (Eastwood, son Kyle, Michael Stevens and singer Jamie Callum), so if the song were to be nominated, someone would have to bow out, per AMPAS rules.
Beyoncé Knowles discovered that the hard way two years ago when she failed to share an Oscar nomination for the "Dreamgirls" number "Listen," despite her role in writing the track.  She also had a role this year in writing "Once in a Lifetime" from "Cadillac Records." A Golden Globe nominee, yes, but it strikes me as the least likely of that crop to transition to Oscar contention.
The "High School Musical" films have, without any doubt, experienced a phenomenal degree of success. I personally find the love fest to be bordering on bizarre, but I suppose I am not the target audience. An original song nomination, most likely for "I Want It All," might be a way for the music branch to tip its hat to the success of these films, and also increase the ratings of the show by bringing Zac Efron to the ceremony.
But if the Academy wants to turn to MY favorite film of the year, Robyn Hitchcock's "Up to Our Nex" from "Rachel Getting Married" received a showcase spot in the film and would make for a nice tip-of-the-hat.  But the song does not have the profile writers and singers of the other contenders.
Despite numerous high profile artists having contributed title tracks to entries in the James Bond series, a song has not been nominated in this category since the classic "For Your Eyes Only" a quarter of a century ago. With due respect to Alicia Keys and Jack White, I doubt "Another Way to Die" is going to be the film to break that trend. Though it's still dangerous to rule out such a high profile track with a BFCA nomination.
I'll end by discussing where the category could go if it really wants to shake things up. "Hamlet 2" did not exactly catch on like many from Sundance thought it would. But it can't be denied that "Rock Me Sexy Jesus" is one hell of a catchy tune. In a category where "It's Hard Out Here for a Pimp" was a recent winner, I would not rule this title out.
But I should note that I feel a total surprise nominee is a significant possibility. I never thought we'd see "August Rush" here last year, for instance.  So keep your eyes peeled.