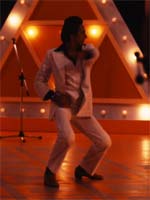 Last month, I played devil's advocate a little with the Best Documentary Feature category, suggesting five less-discussed titles from the shortlist of contenders as a potential counter to the dizzying advance of the clear frontrunner, "Man on Wire" — not as a slight on the film, which is terrific, but in the interests of diversity.
Now, as we near the end of a busy first phase of precursors, I feel the need to make a similar effort in the Best Foreign Language Film category. It's not that the names being mentioned as frontrunners for the Oscar aren't worthy — oft-mentioned titles like "Gomorrah," "The Class" and "Waltz With Bashir" are more than credible contenders, with the former two among my favourite films of the year. (More on that in a couple of days.) But we all know the Academy can frequently choose to ignore the obvious in this category — and with that in mind, I'd like to point out a few interesting directions in which they can go.
The critics certainly aren't helping them out, after all. Excellent film that it is, "Let the Right One In" has stomped all over the precursors almost as comprehensively as "Man on Wire" has: a consensus that strikes me as both surprising and a little disappointing, given what a rich and varied year it's been for non-American cinema. Share the wealth a little, guys. However, the fact that the Swedish vampire film is ineligible for the Oscar means the Academy's foreign-language committee is being given very few pointers at this stage.
So, in the interests of rectifying that, I offer an alternative ballot: four under-the-radar titles from the 67-strong shortlist of foreign-language contenders that the voters would do well to consider. There are no doubt more — I'm drawing from the pool of contenders that I've actually seen — but any one of these would be a most worthy, and welcome, surprise:
"TONY MANERO" (Chile): Pablo Larrain's wicked little festival favourite first caught my eye at the London fest in October, and has crawled progressively deeper under my skin ever since. A tightly conceived and wholly unique hybrid of black comedy, serial-killer thriller and socio-political study, it takes its title from the character played by John Travolta in "Saturday Night Fever," a figure worshipped to a disturbing degree by the film's own protagonist, Raul, a socially inept lowlife eking out a bleak existence in 1978 Santiago, Chile.
Against the increasingly oppressive backdrop of Pinochet's terrorising dictatorship, Raul pins all his hopes on winning a televised Manero-lookalike competition — ruthlessly eradicating anyone who stands in his way. Anchored by Alfredo Castro's droll, precisely judged lead turn, and with an immaculate sense of place — the sweat and dust of a Chilean summer drips from the sun — "Tony Manero" is as defiantly eccentric as it is surprisingly moving. One of the best endings I've seen all year, too. Academy, take note.
"ELDORADO" (Belgium): An inspired submission from the Belgian committee — who could easily have opted for the Dardenne brothers' earnest but below-par "Lorna's Silence" instead — Bouli Lanners' loose, funny, funky homage to the American road movie is also one of the most engaging "odd couple" comedies in years. Examining the wary friendship that develops when a lonely Chevrolet dealer catches a heroin addict burgling his house and — for reasons it's best not to detail, for your enjoyment — agrees to drive him to the Franco-Belgian border, the film balances an active delight in American cultural influence (from the jangly guitar store to the hulking vintage Chevy in which they travel) with supremely dry ruminations on the obstinately flat, oddly-peopled Belgian landscape. (Come to think of it, it would make a great double-bill with "In Bruges.") A U.S. remake is a very conceivable prospect, not least if the Academy endorses this one first.
"TULPAN" (Kazakhstan): The prestigious Sutherland Trophy (for Best First Film) at the London Film Festival — a prize that has previously gone to such future Oscar contenders as "Persepolis" and "You Can Count on Me" — was the latest in a long line of festival hardware (including an Un Certain Regard at Cannes) for documentarian Sergei Dvortsevoy's lovely first narrative effort, yet I fear it may escape the Academy's notice. As I wrote at the festival: "Part folk tale, part National Geographic-style environmental study, the film unfolds on the barren, windswept steppes of south Kazakhstan, a milieu familiar from 2003's documentary "The Story of the Weeping Camel." "Tulpan" actually resembles that film in more ways than one, employing a similarly leisurely, observational shooting style with a keen eye for domestic ritual." In a just world, the film — as attuned to the visual possibilities of landscape as any Hollywood epic — would be a frontrunner for Best Cinematography. That won't happen, but perhaps a foreign-language nomination can.
"THREE MONKEYS" (Turkey): One of the films I was most looking forward to all year didn't let me down, even if its heightened storytelling and noir-ish stylisations came as a surprise after the studied, muted humanism of Nuri Bilge Ceylan's earlier features, the scandalously underseen "Distant" and the much-admired "Climates." It's difficult to know what the foreign-language committee voters will make of a film that confronts them with so much plot — murder, adultery, politics and assorted family skeletons are all in the mix — but unfolds it all with such quiet, offhand deliberation. There are some who find the film chilly, others who find it overwrought, but this viewer found much to love in its bold narrative decisions and expressionistic HD lensing. At times, it plays a little like a rougher, darker, stranger cut of a Susanne Bier melodrama, something the voters — who rallied round Bier's "After the Wedding" two years ago — would do well to bear in mind.
So there you have it… a scattering of alternative possibilities. What foreign-language contenders aren't being talked up enough for your liking? Have your say below.