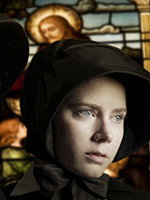 (Apologies for the delay getting these up this morning.  I had technical difficulties signing in and had to scoot shortly after the announcement.  Here are the belated nominees with commentary.)
The Screen Actors Guild didn't have much up its sleeve this morning for its heavily anticipated nominations announcement.  No left-field zingers, no "3:10 to Yuma" or "Station Agent" surprises, just a slick rundown of the season's favorites so far.
Looking deeper into the categories, we can point to a number of things.  The fact that "Doubt" leads the way is no surprise, since all four principles from the cast were nominated and, therefore, the film landed a nod for Best Ensemble.  But praise for the acting, even if that represents the biggest branch of the Academy, isn't necessarily enough.  Will the other branches be on board for this as a "film," or will they simply see it for what it is: a photographed play with no creative bridge to the screen?
Dev Patel's nomination for Best Supporting Actor is the boost he needed for Oscar, though it should be noted that the SAG likes to nominate younger actors.  Dakota Fanning, Jamie Bell, etc.  Also, it's worth noting that Taraji P. Henson received three nominations this morning, two for her performance in "The Curious Case of Benjamin Button" (supporting actress and ensemble) and one as part of the "Boston Legal" ensemble on the TV side of things.  Congratulations to one sweetheart of a girl.
The absence of Sally Hawkins is a bit distressing, however.  Especially when you consider the fact that the actress categories tend to go five-for-five with the Academy.  That could of course change this year as both fields are more competitive than usual, but seemingly a sure-thing after her critics awards bonanza, it seems the lovely Hawkins is back on the bubble.
"Revolutionary Road" is, sad to say, officially on life-support, if the night nurse hasn't already tripped on the chord and yanked it from the wall entirely.  One nomination for Kate Winslet, nothing for Leonardo DiCaprio, nothing for the brilliant Michael Shannon.  The industry doesn't seem to be responding to this film.  So I think the likely five have finally slid into place, and "Doubt" remains the spoiler.
The nominees after the jump.
Best Actor
Frank Langella, "Frost/Nixon"
Richard Jenkins, "The Visitor"
Sean Penn, "Milk"
Brad Pitt, "The Curious Case of Benjamin Button"
Mickey Rourke, "The Wrestler"
Best Actress
Anne Hathaway, "Rachel Getting Married"
Angelina Jolie, "Changeling"
Melissa Leo, "Frozen River"
Meryl Streep, "Doubt"
Kate Winslet, "Revolutionary Road"
Best Supporting Actor
Josh Brolin, "Milk"
Robert Downey Jr., "Tropic Thunder"
Philip Seymour Hoffman, "Doubt"
Heath Ledger, "The Dark Knight"
Dev Patel, "Slumdog Millionaire"
Best Supporting Actress
Amy Adams, "Doubt"
Penelope Cruz, "Vicky Cristina Barcelona"
Viola Davis, "Doubt"
Taraji P. Henson, "The Curious Case of Benjamin Button"
Kate Winslet, "The Reader"
Best Ensemble
"The Curious Case of Benjamin Button"
"Doubt"
"Frost/Nixon"
"Milk"
"Slumdog Millionaire"
Best Stunt Ensemble
"The Dark Knight"
"Hellboy II: The Golden Army"
"Indiana Jones and the Kingdom of the Crystal Skull"
"Iron Man"
"Wanted"