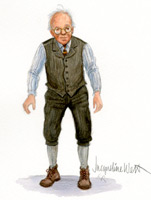 Paramount Pictures has put together a brilliant little FYC site for "The Curious Case of Benjamin Button" that I'm just now getting around to, fit with the usual bells and whistles: downloadable screenplay, score samples (God Alexandre Desplat's work is gorgeous), clips and interviews, etc.  You can enter the site by clicking on the ad at the top of the page here.
I always look for proper care and consideration for the crafts of this film or that each season.  It's our mandate, as long-time readers know, that those names get the same exposure as the biggest of stars.  Paramount Vantage always does a nice job of that with its Vantage Guilds website, but more and more, other studios are following Vantage's example.
For instance, on the "Button" site, there is a nice little gallery of costume design sketches from Jacqueline West's portfolio, with screen test photos to go along with the ultimate look of the apparel in the film.  It gives you a nice cross section of the work and a look at its journey from the hypothetical to the tangible.
And indeed, West's work on the film is quite lovely, a much more thorough and certainly more varried array of threads than you might expect.  Cate Blanchett's red dress from a key scene in the film has popped up in at least one Q&A.  Director David Fincher used some CGI nit-picking to amp up the red and add to the experience of the scene's emotional beats.  But that's not to take away from what West has done, which is outfit a hell of an epic with a beautiful wardrobe that walks the line between reality and fantasy nicely and understands that dichotomy, one that lies at the heart of the film.